Oxford Medieval Mystery Cycle Plays 2020 (Postponed)
Event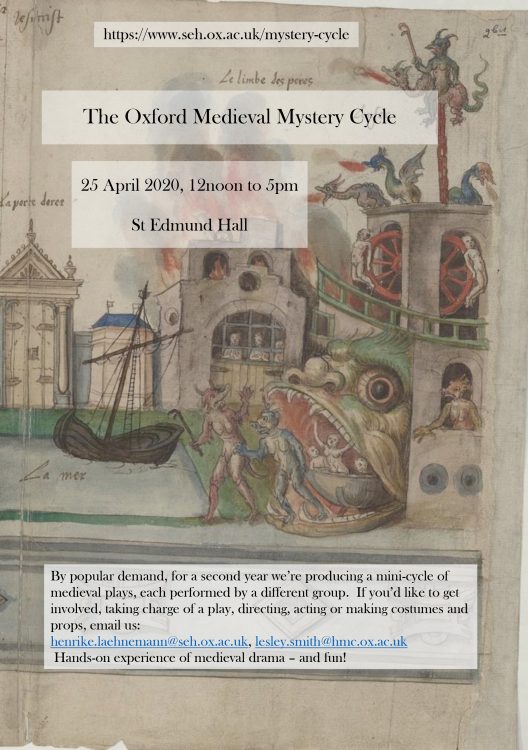 This event has been postponed for 2021. We are sorry for any inconvenience caused.
Following on from the success of last year, the Oxford Medieval Mystery Cycle Plays return to St Edmund Hall on 25 April 2020 next year.
Led by Professor Henrike Lähnemann, St Edmund Hall Fellow and Professor of Medieval German Literature and Linguistics, and Professor Lesley Smith, Fellow and Tutor in Politics and Senior Tutor at Harris Manchester College, the Mystery Plays were a very popular form of drama in the Middle Ages – with different groups performing short plays telling stories from the Bible. Annual performances were organised by guilds (associations of craftsmen or merchants) who would each take responsibility for a particular play. They were usually staged on wagons which would move through the town or city, stopping to perform at various fixed stages. The audience could therefore remain in one place to see the whole cycle, or move between different stations as they wished.
More information on the event is coming soon.
Event Details
Date: 25 Apr 2020 (Sat)
Time: All day
iCal:Export
Location: St Edmund Hall, Queen's Lane, Oxford, OX1 4AR
Contact: Henrike Lähnemann
Categories