Teddy Talks XV: Aularians on the Covid-19 Frontline
Event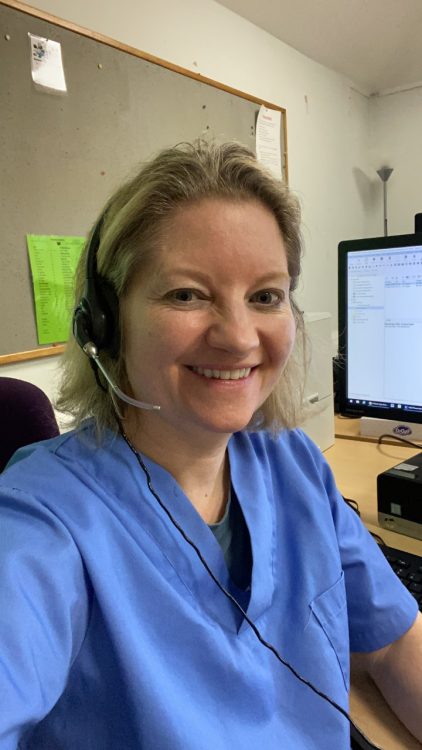 When the Covid-19 pandemic hit in the spring of this year, for many of us it meant an enforced period of stillness and reflection. Not so for those occupied in such essential areas as healthcare and logistics. In this Teddy Talk, Aularians discuss the challenges and triumphs they encountered while working on the Covid-19 frontline.
The following Aularians will be on the panel:
Emma Barnett (1990, Geography) has 26 years policing service and was promoted to Deputy Chief Constable at Staffordshire Police in August this year. She led the force's initial response to Covid-19 and was part of the county's multi agency strategic coordinating group with the aims of maintaining an effective policing service and public confidence. Dealing with the unprecedented lockdown, new legislation to police alongside changing crime and demands, plus the overall impact of the pandemic on the workforce and communities, has meant the most challenging period of her career to date.
Toby Colegate-Stone (1998, Physiological Sciences) is an Orthopaedic & Trauma consultant surgeon. His NHS post is at King's College Hospital, London. He is a Major Trauma Surgeon with a sub-specialist practice in Shoulder, Elbow and Sports reconstruction surgery. He is active in leading research and medical education and has over 40 peer reviewed publications and helps to drive the academic activity at King's Health Partners.
Polly Cowan (2002, Jurisprudence) studied law at Teddy Hall before completing a graduate trainee scheme in London to become a social worker, which included undertaking a MA in Social Work at Middlesex University. She has worked in frontline child protection since 2006. She moved to Edinburgh in 2013 and currently works as a senior practitioner at Scottish Adoption. She is also completing her PhD at Edinburgh University. She is a tribunal member for the General Medical Council in England and for the Additional Needs Tribunal Service in Scotland.
Lawrence Cummings (1971, Modern Languages) graduated from the Hall in 1975 and joined Ocean Transport and Trading, then Britain's second largest shipping company. Thus began a 42-year career involving ocean freight, air cargo, airline handling, road freight, exports, imports, warehousing and storage – the sum total of what is now called "Logistics". Lawrence is a Chartered Fellow of the Chartered Institute of Logistics and Transport, and also a past President of the St Edmund Hall Association.
PJ Howard (1997, Medicine) is a Vascular Surgeon at the John Radcliffe Hospital in Oxford with specialist interests in managing complex aortic and peripheral arterial disease. His research focuses on the epidemiology of vascular disease. Since 2010, he has gathered unique data on a population of 100,000 people and published on improving the primary and secondary prevention of vascular disease.
Dr Ashley Rule (1990, Medicine) began his career as a junior doctor in London. He returned to Oxford as a consultant psychiatrist in 2005. He works in adult and forensic psychiatry, within community, inpatient, and prison settings.
Dr Anna Trigell (1990, Experimental Psychology) studied medicine at St Mary's in London. She completed her GP training in Cambridge and has been working in General Practice in St Neots since 2004. She specialises in dermatology and aesthetics.
Dr Patapia Tzotzoli (2003, Experimental Psychology), founder of My Psychology Clinic, works as a Clinical Psychologist with clients on one to one basis in London and worldwide via online therapy. She specialises in adult mental health and couples therapy. She studied at the universities of East London, Oxford and Cambridge, and trained at the Institute of Psychiatry where she worked across world-renowned NHS Trusts.
If you are interested in joining this online talk (taking place on Zoom) please email kate.townsend@seh.ox.ac.uk. You will receive the joining details a week before the event.
Event Details
Date: 1 Oct 2020 (Thu)
Time: 13:00 - 14:00
iCal:Export
Contact: Kate Townsend
Categories