'Reform & Revolt': Women in German Studies conference at St Edmund Hall
22 Jun 2017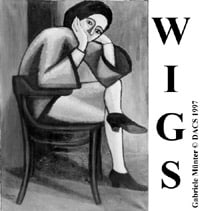 Starting today, we are pleased to be hosting this year's Women in German Studies (WiGS) conference at St Edmund Hall. Women in German Studies is a professional organisation for Germanists in Great Britain and Ireland which was founded in 1988 by Helen Watanabe-O'Kelly, Professor Emeritus at Oxford's Faculty of Medieval and Modern Languages.
From 22 to 24 June the conference comes to Oxford for the first time, to explore the topics 'reform' and 'revolt' across German history, literature and culture. The conference will make good use of all the College facilities: besides presentations in the Old Dining Hall and the Doctorow Hall, there will be a tour of the seventeenth-century Old Library under the theme of 'Reformation'. After the conference dinner in the Wolfson Hall, as a special highlight, there will be Lutheran Compline in the Crypt of St Peter-in-the-East (a Norman church, now converted for use as the main College library), sung in German with St Edmund Hall German lecturer Dr Alex Lloyd as cantor.
You can find the full conference programme on the Faculty website, and follow @WiGSblog on Twitter for updates.