Dr Ben Jenkins
College Lecturer in Materials Science
Dr Ben Jenkins, a post-doctoral researcher in the Atom Probe Group, studied Materials Science as an undergraduate at St Edmund Hall after completing his A-Levels at Monmouth School. His research focuses on steels used in nuclear reactors.
The safe operation of nuclear reactors is of paramount importance. If we are to accurately predict the safe operational lifetime of nuclear fission reactors, we need to have a detailed understanding of how and why the mechanical properties of steels change during exposure to neutrons at elevated temperatures.
Ben uses atom probe tomography, a microscopy technique with high spatial and chemical resolution, to investigate the nanostructural changes that steels undergo during operation. These nanostructural changes can have considerable effects on the mechanical properties of the steels. It is hoped that an understanding as to why these changes occur will help improve the design of next generation of fission reactors, as well as to create more accurate models for predicting operational lifetime.
Ben teaches a variety of courses on the mechanical properties of materials and on the processing of components.
Presentations and Posters
International Group on Radiation Damage Mechanisms in Pressure Vessel Steels (IGRDM)
Effects of Long-Term Thermal-Ageing on Reactor Pressure Vessel Steels, B.M. Jenkins, J. Zelenty, J.M. Hyde, K. Wilford, P.A.J. Bagot, M.P. Moody, Asheville, NC, USA (2016 Oral)
European Atom Probe Tomography Workshop
Atom Probe Analysis of Nanoscale Features In Thermally-Aged RPV Steels, B.M. Jenkins, P.A.J. Bagot, J.M. Hyde, K. Wilford, M.P. Moody, Oxford, UK (2016 Poster)
Publications
Comparing the consistency of atom probe tomography measurements of small-scale segregation and clustering between the LEAP 3000 and LEAP 5000 instruments, T.L. Martin, A.J. London, B.M. Jenkins, S. Hopkin, J.O. Douglas, P.D. Styman, P.A.J. Bagot, M.P. Moody, Microscopy and Microanalysis 23(2), 227-237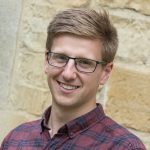 Dr Ben Jenkins
MEng Oxf
College Lecturer in Materials Science