Chris Mann (1971, English) is an award-winning South African poet. He studied at Oxford as a Rhodes Scholar and won the Newdigate Prize for Poetry.
Chris is now based at Rhodes University in Grahamstown and writes poetry for publication, performance, and multi-media presentation using the graphics of modern technology. The artist, Julia Skeen, to whom he is married, produces the graphics for the presentations, as well as for his painting-poems. Chris also writes plays in verse for the radio and stage.
His work has appeared in a wide range of journals, textbooks and anthologies in South Africa and abroad. His many publications include First Poems (Bateleur Press, 1979), New Shades (David Philip,1982), Kites (David Philip, 1992), Mann Alive! (David Philip, 1992), South Africans (University of Natal Press, 1996) and Heartlands (University of Natal Press, 2002). His most recent collection of poetry Rudiments of Grace (Grahamstown: Cathedral of St Michael and St George) was published in 2014. During that year, he also wrote a play-in-verse, The Ballad of Dirk de Bruin, which was performed at the 2014 National Arts Festival Fringe, receiving the Standard Bank Ovation Award for Drama.
Chris performs his work at festivals, schools, churches, universities and conferences around the country. He was a founder and song-writer of Zabalaza, a cross-culture band performing in English and Zulu, and he is the founder and convenor of Wordfest, a national multilingual festival of South African languages and literatures. He has won many awards, including the Olive Schreiner Prize for South African Poetry in English and the South African Performing Arts Councils' Playwright of the Year award. He was made a Professor of Poetry at Rhodes University in 2007.
Chris's academic work continues alongside his immensely demanding outreach work. He delivered a keynote address, 'The Poetry of Belonging: episodic memory and shades Italian and South African' at a conference, Italy through post-Colonial Eyes, in Venice (October 2014); and his essay 'Seeing the Cosmos in a Grain of Sand' will shortly be published in Cosmopoetics: The Expanding Worlds of Contemporary Poetics.
Chris is an active member of the Hall Writers' Forum. He posted his Valediction to Seamus Heaney there, as a contribution to our National Poetry Day commemorative event in 2013 – it was read movingly by his sister beside the candle-lit well in the front quad, and subsequently published in the Oxford Magazine.
How does the current global economic climate affect your role as a South African poet?
The recent recession, triggered by deceit among bankers in the north, has led to the (estimated) loss of over a million jobs among the poor in this country alone. There are, of course, many other causes, but prominent among them is a global accounting system where employees are costs, the biosphere a free good and no value is awarded to the ethical and spiritual. Poets, in such a context, have much to do.
Auden said that "Poetry makes nothing happen": how would you respond to this?
I don't know enough about socio-economic and cultural change in Britain to comment. In this country, the resilience of the oral literature tradition continued throughout the struggle against apartheid, and beyond, with mixed results. Poetry was not a side-show at all.
What words of advice do you have for Hall writers?
In an era of ecological crisis, ethical equivocation and spiritual neglect, when the gods of a country are money and fame, the writer's creative imagination becomes an essential contributor to any reform. I hope that the initiative at St Edmund Hall will affirm the value of poetic vision and encourage Hall writers to expand their roles.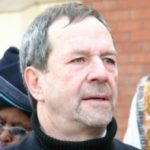 Chris Mann