Christopher Bucknall
Director of Music
Christopher Bucknall, conductor and harpsichordist, joined the College in 2017. He is a rising star both on the concert platform and in the opera house, sharing his passion for bringing music from the seventeenth and eighteenth centuries alive.
Christopher made his conducting debut in 2012 with Handel, Apollo e Dafne at the Wigmore Hall and has since gone on to conduct critically acclaimed productions of Handel, Agrippina (Iford Arts), Haydn, Il Mondo della Luna (English Touring Opera), Monteverdi, L'Orfeo (Silent Opera), Handel, The Choice of Hercules (Bampton Classical Opera), Pergolesi, La Serva Padrona (Vestfolds International Festival, Norway) and Purcell, Dido and Aeneas (Silent Opera). In January 2014, Christopher made his Scandinavian debut conducting Handel, Alcina for Den Norske Opera.
On the concert platform, Christopher has appeared conducting B'Rock (Belgian Baroque Orchestra Ghent), Real Filharmonie de Galicia, Norwegian Wind Ensemble and International Baroque Players in varied repertoire ranging from Monteverdi through to Mozart. He also regularly collaborates with the UK's finest vocal ensembles including performances of Bach's Weihnachtsoratorium with the BBC Singers, and highly praised preparation of the Glyndebourne and English National Opera choruses in works by Purcell and Rameau.
Christopher frequents many of Europe's top concert halls and festivals as harpsichordist and continuo player appearing with groups including the Orchestra of the Age of Enlightenment, The Kings Consort, Brecon Baroque, Academy of Ancient Music, Early Opera Company, and The Classical Opera Company. Projects for the 2016/17 season include conducting Vivaldi, La Senna Festeggiante for B'Rock with Karina Gauvin and Sonia Prina, assisting Ivor Bolton on Handel, Rodelinda in Madrid and conducting Handel, Jeptha for Iford Arts.
Christopher studied at Lincoln College, Oxford and the Royal Academy of Music, studying harpsichord and fortepiano.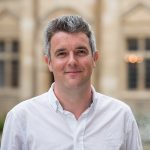 Christopher Bucknall
Related Links