Sir David Cooksey FRS
Royal Society Honorary Fellow
Sir David Cooksey, who started his career as an industrial engineer, was educated at Westminster School and came to the Hall in 1959 to read Metallurgy. During his time there, he became the Hall's first MCR President.
He worked for Formica International, then a subsidiary of De La Rue, where he became Director of Manufacturing in 1969. He was appointed to the Board at the age of 29. Two years later, he led one of the earliest management buyouts which created a group producing precision plastic products for the engineering and medical devices industries.
Ten years later he entered venture capital fund management founding Advent Venture Partners, one of the UK's first venture capital firms to provide financing for technology-based businesses. He remained Managing Partner/Chairman of Advent for the next 25 years, retiring from the role in September 2006.
Sir David chaired the Audit Commission from 1986 to 1995 and was a director of the Bank of England from 1994 until 2005. From 2003 to 2005 he was the first independent Chairman of the Bank. From 2009 to 2012 he was appointed chairman of UK Financial Investments Ltd, the holding company for the UK Government's involuntary investments in the banks during the financial crisis.
In 1987 he was instrumental in persuading the University to form Isis Innovations Ltd (now Oxford University Innovations Ltd) after the Government had enabled UK universities to exploit the value of inventions resulting from government funded research. He was a Governor of the Wellcome Trust from 1995 to 1999, and Chairman of the Board of Directors at Diamond Light Source Ltd from its formation in 2002 until its successful delivery in September 2008.
In 2003 Sir David was appointed to chair the UK Biotechnology Innovation and Growth Taskforce by HM Treasury and the Department for Trade and Industry, publishing its report "Biosciences 2015" that year. This report paved the way for the NHS National Institute for Health Research (NIHR) which has ensured much greater involvement in clinical research within the NHS. In 2006 he was appointed by the Chancellor of the Exchequer to undertake the Cooksey Review of UK Health Research Funding. This led to significant increases in Government funding for medical research, changes to the approaches to the licensing of new medicines as currently expressed in adaptive licensing. The Cooksey Review was instrumental in making the case for a new centre of excellence in biomedical research in the UK. This resulted in the Francis Crick Institute in London which he chaired from inception in 2008 to a fully operational institute in 2017.
He was knighted in 1993 and appointed a Knight Grand Cross of the Order of the British Empire (GBE) in 2007 both for public service.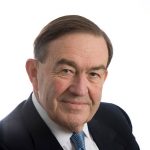 Sir David Cooksey FRS
GBE, MA, (DSc (Hon) UCL; DSc (Hon) Soton; DBA (Hon) Kingston) FMedSci
Honorary Fellow
Royal Society Honorary Fellow