Dr Edward Lamb
Career Development Fellow in Philosophy
Ed Lamb is a Career Development Fellow in Philosophy at St Edmund Hall. He completed his PhD at University College London after working for several years in homelessness. He grew up in Brighton.
Ed's areas of research are Ethics and Political Philosophy. He currently focuses on the wrongness of treating people merely as a means and on what we owe the worst off. More generally, he works on the compatibility of equality and economic incentives as well as the relation between political institutions and ideals. His PhD argued for a Kantian conception of moral status and a particular type of Political Liberalism.
As the Organising Tutor for Philosophy, Ed oversees the teaching of Philosophy within the College, as well as teaching undergraduate tutorials for Introduction to Moral Philosophy, 103 Ethics and 114 Theory of Politics. He also supervises graduate students. He is passionate about teaching and the practice of Philosophy.
A piece which Ed co-authored on poverty can be found here.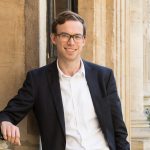 Dr Edward Lamb
MA (Cantab); MA PhD (UCL)
Career Development Fellow in Philosophy