Dr Emre Korkmaz
Junior Research Fellow in International Development
Emre Eren Korkmaz is a Departmental Lecturer in Migration and Development at the Oxford Department of International Development (ODID). He is also a Research Associate at the Centre for Technology and Global Affairs of the Department of Politics and International Relations; and a Visiting Research Fellow at Regent's University, London, in their Centre for Transnational Business and Management.
From October 2016 to September 2018, he was a British Academy, Newton International Fellow/ post-doctoral researcher at ODID.
As a political scientist and international relations expert, Eren has been working on two main research areas throughout various academic and non-academic posts and projects since 2010:
The political representation and public sphere of refugees and immigrants, dealing with Turkey-origin immigrants in Western Europe and Syrian refugees in Turkey.
The politics of industrial relations, mainly focusing on the business and human rights issues including sustainability/ human rights due diligence approaches, global supply chain management and labour rights.
A critical aspect of his primary research and consultancy areas is to focus on the social and political aspects of the artificial intelligence. This consists of:
The role of artificial intelligence in the global supply chain management which is about the future of the industrial relations between corporations, suppliers and workers.
The actual and potential results of blockchain and AI-based humanitarian projects and digital identity initiatives on dealing with the refugee question, sponsored by global technology and financial corporations as a part of their corporate social responsibility (CSR) projects.
He received his PhD from Istanbul University, Faculty of Political Science, and his MA from Sabanci University.
Eren is a member of the editorial board of the journal Migration Letters, published by Transnational Press London.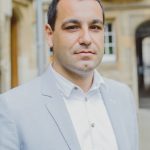 Dr Emre Korkmaz
MA (Sabanci, Istanbul); PhD (Istanbul)
Junior Research Fellow in International Development