Gareth Simpson
Director of Development
Gareth leads the Development and Alumni Relations Office.
Prior to joining St Edmund Hall, Gareth worked as Director of Philanthropy & Strategic Partnerships at Opportunity International UK, one of the world's leading microfinance institutions, and at Oxfam GB where he created new income streams and volunteer programmes as well as delivering large-scale events, including Live 8 Johannesburg Concert in 2005 at which Nelson Mandela was the Guest of Honour.
Gareth has also lived and worked in Namibia, predominantly in the northern regions where he led Youth HIV & AIDS Awareness programmes. He holds a First Class honours degree from Nottingham Trent University in Human Education (the study of how people learn) with a particular interest in education systems in post-oppressive states.
Now living in Oxfordshire with his young family, Gareth is a volunteer governor of a local primary school with any free time dedicated to riding one of his many bicycles – preferably uphill.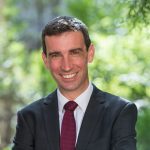 Gareth Simpson
Director of Development
Fellow by Special Election