Geoffrey Davis (1966) is Emeritus Professor of Anglophone Postcolonial Litreatures at the University of Aachen, Germany.
After reading Modern Languages (French and German) at the Hall, he moved to Germany where he taught for much of his career in Aachen. He also taught at the universities of Nice, Verona, Trento, Essen, Heidelberg, Frankfurt and Innsbruck. His research interests include Colonial and Postcolonial Writing, Drama and Film, with a particular emphasis on Southern Africa, Canada, and Australia. He has held research scholarships and fellowships at St. John's College, Cambridge, Curtin University (Australia) and the University of Texas at Austin. He wrote his doctorate in Germany on the late works of Arnold Zweig published in East Germany (Arnold Zweig in der DDR). His Habilitation (post-doctoral dissertation) was published under the title Voices of Justice and Reason: Apartheid and beyond in South African Literature. In 2012 he was presented with a two-volume Festschrift entitled Engaging with Literature of Commitment, Vol. 1 Africa in the World; Vol. 2 The Worldly Scholar.
He has published on South African theatre (Beyond the Echoes of Soweto: Five Plays by Matsemela Manaka, and the co-edited volume Theatre and Change in South Africa) as well as on theatre in the UK (Staging New Britain: Aspects of Black and South Asian British Theatre Practice). Since 2007 he has been working with the Bhasha Research Centre in Baroda (India), an NGO involved in education for tribal people (adivasis), and he has co-organised a series of interdisciplinary conferences on Indigenous Studies out of which a series of books edited with Indian colleagues has emerged, most recently Narrating Nomadism: Tales of Recovery and Resistance, Knowing Differently: The Challenge of the Indigenous, and Performing Identities: The Celebration of Indigeneity in the Arts (all Routledge). In 2012 he co-wrote a report on the present state of arts and culture in Zimbabwe for the Commonwealth Foundation. One of his now rare excursions into German studies was his editing in 2015 of a volume on Feuchtwanger und Berlin. Since 1990 he has been co-editing two book series, Cross/Cultures: Readings in the Post/Colonial Literatures and Cultures in English and the African studies series Matatu, both published by Brill of Leiden and Boston. He has always been an active member of the Association for Commonwealth Literature and Language Studies (ACLALS), having been chair of both its European branch and its international organisation.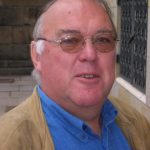 Geoffrey Davis