Dr Jacob Schumacher
Early Career Development Fellow
Dr Jacob Schumacher is a Early Career Development Fellow at St Edmund Hall and teaches Economics & Management.
Jacob undertook undergraduate studies at the University of the Pacific in Economics, International Relations, and Japanese Studies. He did his MA in International Law, MSc in Finance and Financial Law, and PhD in Finance and Management at SOAS, University of London. He became a Teaching Fellow in Finance at Said Business School in 2016. He is currently an Early Career Development Fellow at the Hall where he teaches finance and a course on Chinese Political Economy.
Jacob is an economist with interests in financial technology (FinTech) and financial innovation, international finance and political economy, and the Chinese financial system. He is interested in how financial systems evolve to incorporate new technologies and how financial innovations can affect regional and national economic growth as well as financial stability. He is currently examining if FinTech adoption is complementing or supplanting traditional financial services and firms and whether it can be used to resolve regional growth imbalances in the UK. He is also interested in Chinese Political Economy and its financial system. He seeks to understand the path of Chinese financial system development and how historical investment in the sector by foreign firms as well as modern innovations has impacted Chinese economic growth and development more broadly.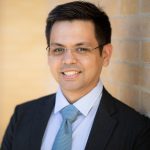 Dr Jacob Schumacher
BA, University of the Pacific; MA, MSc, PhD SOAS
Early Career Development Fellow