Dr James Ed Darnbrough
Fellow by Special Election and Tutor in Materials Science
Ed studied Physics with Australian study at Exeter University, spending his third year in Wollongong Australia, before moving to Bristol for his PhD on the 'thermal stability and mechanical properties of nanocrystalline nickel' with Professor Peter Flewitt.
Ed stayed in Bristol for his first postdoctoral research post, focusing on materials for the nuclear sector, working on uranium metal corrosion with Dr Ross Springell and in conjunction with AWE. The project involved starting to investigate possible alternatives to uranium dioxide as a fuel in fission reactors. After three successful years in Bristol, Ed moved to Oxford to join the 'Materials for Fission and Fusion Power' group in the Materials Department as a postdoc without a portfolio. This allowed him to get involved in a number of projects, ranging from radiation damage in Beryllium to developing new microscale testing techniques, whilst continuing his work on uranium fuels.
Ed has extensive experience and skills in conducting in-situ and in-operando experiments on complex samples, to extract fundamental properties from small volumes. This led to his appointment as a Career Development Fellow in the field of Mechanical Properties of Battery Materials at Oxford. This will see him working with Professor Mauro Pasta and Professor Peter Bruce on the SOLBAT project.
Outside of academia Ed takes a keen interest in most sports and is a committed Saracens fan, badminton player and triathlete.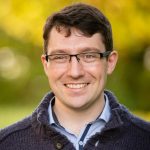 Dr James Ed Darnbrough
MPhys (Exe), PhD (Bris)
Fellow by Special Election and Tutor in Materials Science
Career Development Fellowship in Materials Department
ed.darnbrough@materials.ox.ac.uk
Related Links