Dr James Whitbourn
Director of Music
Dr James Whitbourn Director of Music at St Edmund Hall and Fellow by Special Election in Music.
Dr James Whitbourn graduated from Magdalen College, Oxford, before beginning his career in the BBC, for whom he worked as composer, conductor, producer and presenter. Between 2001 and 2019, he was an exclusive composer with Chester Music, publisher of more than seventy of his compositions. Among these, Annelies (his setting of the Diary of Anne Frank) has become one of the most-performed large-scale choral works of the twenty-first century. Other notable publications include Luminosity, The Seven Heavens and the Son of God Mass. In 2020, he became an exclusive composer for Oxford University Press with whom he has published choral and organ works including Solitude, Christmas Welcome and Apollo.
A member of the Faculty of Music, he leads the ongoing 'Music Egypt' research project (supported by TORCH, with whom he was a Knowledge Exchange Fellow from 2019-2021), working with the Egyptian soprano Fatma Said. His large-scale orchestrations and re-workings of the music of Abdel Wahab have been performed in Egypt (Cairo, Luxor), UK (London, Birmingham), Switzerland and Dubai.
His work has garnered four Grammy nominations among many other international awards, and there are six complete discs of his choral music, alongside representation on many compilation albums.
At St Edmund Hall, James Whitbourn directs the musical activities of the college and leads its choral programme for students at the Hall.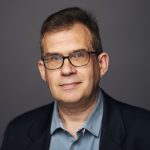 Dr James Whitbourn
Fellow by Special Election
Director of Music