Ronnie Guthrie
MCR President
Ronnie Guthrie is a 3rd year DPhil student in the Department of Earth Sciences and President of the Middle Common Room (MCR), which comprises the postgraduate student community of St Edmund Hall. His research interests include using a sedimentological and geochemical approach to understand weathering during the Late Devonian mass extinction, currently focusing on using lithium isotopes and clay mineral assemblages in Late Devonian carbonates to understand weathering intensity, along with I/Ca ratios to assess oxygenation of Devonian oceans.
Ronnie is from a farming family in rural Perthshire, Scotland, and studied for an MGeol in Earth Sciences at the University of St Andrews before working in the renewable energy industry and then in science communication for a medical research advocacy body. He returned to academia as he enjoys the multidisciplinary aspect of a DPhil and the hands-on aspect of an Earth Science research degree; whilst he applied to Teddy Hall for its strong background in science and close-knit community feel. His work allows him to travel to field sites and conferences in Europe, North America and Africa, and he most recently returned from demonstrating on the 4th year undergraduate field trip to Greece. Ronnie also has continued to play 'shinty' whilst at Oxford, a Scottish sport similar to hockey and Irish hurling, albeit with fewer rules.
As MCR President, Ronnie represents the views and interests of over 350 graduate students to both the senior members of the College, the University and the world-at-large. He ran for President after serving as MCR Steward for a year, in which he organised all social events events for the MCR, and aims to ensure that the MCR can be enjoyed by all members of the Hall's diverse graduate community through all stages of their degree. He was elected in July 2018 to serve a year's term and chairs meetings of the MCR committee, as well as sitting on several College and University committees.
If a student has any issue or would like to effect change within the MCR or College, they can either contact the MCR committee through Ronnie or, in Weeks 2 and 7 of each term, bring it up as a motion at an MCR General Meeting. In addition, if you are a prospective student and would like to know more about what life is like as a graduate student in the College or in Oxford, please email mcr.president@seh.ox.ac.uk.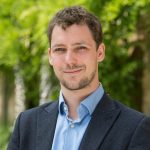 Ronnie Guthrie
Related Links