Dr Stephen Mellon
College Lecturer in Engineering Science
Stephen Mellon is a NDORMS Research Fellow with the Oxford Orthopaedic Engineering Centre (OOEC) at the Nuffield Department of Orthopaedics, Rheumatology and Musculoskeletal Sciences. His research interests lie in Orthopaedic Biomechanics with specific emphasis on joint mechanics after joint replacement. He has recently focused on new methods for measuring human motion using ultrasound.
Stephen studied Biomedical Engineering at the University of Ulster followed by a PhD at Queen Mary, University of London. After a stint at the Biomechanics and Biomaterials Laboratory at Lund University, Sweden as a post-doctoral researcher, he joined the University of Oxford.
At St Edmund Hall, he tutors 1st and 2nd year Engineering Science students on Dynamics and Materials. Stephen also teaches Biomechanics on the MSc in Musculoskeletal Sciences run by his department and is a tutor on the Preparing for Learning and Teaching at Oxford course run by the Medical Sciences Division.
CAT & MAUS: A novel system for true dynamic motion measurement of underlying bony structures with compensation for soft tissue movement. Jia R. et al, (2017), Journal of Biomechanics, 62, 156 – 164
A computer-aided tracking and motion analysis with ultrasound (CAT & MAUS) system for the description of hip joint kinematics. Jia R. et al, (2016), International Journal of Computer Assisted Radiology and Surgery, 11, 1965 – 1977
Optimal acetabular component orientation estimated using edge-loading and impingement risk in patients with metal-on-metal hip resurfacing arthroplasty. Mellon SJ. et al, (2015), Journal of Biomechanics, 48, 318 – 323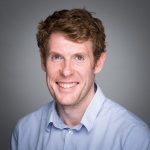 Dr Stephen Mellon
BSc Ulster, PhD
College Lecturer in Engineering Science
Research Fellow, Nuffield Dept. of Orthopaedics, Rheumatology and Musculoskeletal Sciences