Terry Jones
Honorary Fellow
Terry Jones (1964) is a world-famous screenwriter, actor, film director, author, children's writer, political commentator and TV host.
He is best known as a member of the legendary Monty Python comedy team, who made their name with Monty Python's Flying Circus, a BBC comedy show which started in 1969 and ran to four series. Jones co-directed Monty Python and the Holy Grail with Terry Gilliam and was sole director on two further Monty Python movies, Life of Brian and Monty Python's The Meaning of Life.
Terry's fascination with the medieval world began at Teddy Hall and has lasted a lifetime. He has written books and presented television documentaries on medieval and ancient history, including Terry Jones' Medieval Lives (2004) and Terry Jones' Barbarians (2006). His publication Chaucer's Knight: The Portrait of a Medieval Mercenary (1980) offered an alternative take on the history of chivalry, and has been popular with academics and students alike. More recently he investigated suspicious circumstances surrounding Chaucer's death in Who murdered Chaucer? A Medieval Mystery.
Outspoken in his political opinions, Terry has written numerous columns for national newspapers condemning the Iraq War. Many have been published in a paperback collection titled Terry Jones's War on the War on Terror.
Terry is also a prolific and much loved children's writer. Fantastic stories, fairy tales, Viking sagas and tales of the Crusades – you name it, he has made it lively, humorous, and accessible.
Terry has always been an active supporter of St Edmund Hall's creative writing initiatives. He has given several talks about his work to Hall undergraduates and alumni. He gave every support and encouragement to the Synergies anthologies, which grew out of a workshop project led by Lucy Newlyn and Jenny Lewis. He also contributed two poems to the Hall publication Chatter of Choughs.
Terry has had a festschrift dedicated to him called The Medieval Python: The Purposive and Provocative Work of Terry Jones, which was edited by R.F. Yeager and Toshiyuki Takamiya. There have been two academic conferences on Monty Python: Nobody Expects The Spanish Inquisition, edited by Tomasz Dobrogoszcz in Poland at Lodz (October 2010) and a more recent one in London at King's College University. Everyone in the Hall was tremendously pleased by Monty Python's comeback in the 2014 live show, which is available on DVD.
I was at the Hall in 1961-1964. Of course it's a different place today. In my day the buildings were tiny: there was only the front quad and then you walked through the small doorway into a mess of outside lavatories, bicycle sheds and a staircase up to the Besse Block which were the rooms above the shops along the High. We ate in the old Hall itself and there had to be three sittings to fit everyone in. The Hall was, in fact, like a tight shoe, making us all feel slightly as if we were somehow not quite totally a part of the university.
But one thing those cramped quarters did give us was a feeling of solidarity; as members of the Hall we felt we supported each other.
And now, although the buildings have expanded to accommodate everyone as they should, and the facilities are now all they ought to be, that spirit still seems to be there. There is something special about being a Member of the Hall. It's like being a member of an enterprising and outward-looking family.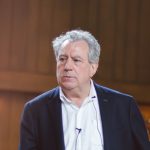 Terry Jones
MA
Honorary Fellow
1961, English Language and Literature
Actor, Writer, Comedian