Myth-busting
Separate the fact from the fiction with our student-written guide
There are lots of myths and misinformation out there about applying to Oxford – so much so that people can be put off from applying to Oxford. A worrying Sutton Trust survey recently found that over 4 in 10 state school teachers rarely or never advise smart pupils to apply to Oxford and Cambridge. To help combat this, we have put together this myth-busting page, written by students at Teddy Hall, to give you a better idea what life at the Hall is really like.
Reality: There's no point denying that studying at Oxford is hard work. The terms are 8 weeks long, which means they are often quite intense periods, but it's still easy to find the time to socialise with your friends and get involved with clubs and societies. There are over 200 University societies to choose from, as well as many college societies.
At Teddy Hall there's a great range of activities on offer. We are known as one of the sportiest colleges in Oxford – there's football, rugby, netball, hockey, rowing and so much more. These clubs accommodate everybody, whether you're a serious sportsman/woman or just want to get involved casually.
Yet there is far more than just sport at the College. On the arts and music front, to name just a few of the clubs on offer, there is the Music Society, the John Oldham Drama Society and creative writing workshops. Teddy Hall even offers Masterclass funding, a scheme unique to this College, offering up to £1000 each year for students who want to get advanced coaching in an extra-curricular activity, because the College recognises that studying isn't the only part of people's lives.
Additionally, it's also not true that students at Oxford don't go out and enjoy the nightlife that Oxford has to offer. There are cheap student nights on most days throughout the week, just like at other universities, and those who enjoy going clubbing make the most of them. Each college has its own bar as well, where the prices are much cheaper and service much friendlier than any pubs you'll find on the High Street, so these are often popular with the students as well.
Reality: Oxford does have a 'uniform' of sorts, which is called sub-fusc (for a glossary of all the strange Oxford terms, check the useful links section at the bottom of the page), but this is only worn very occasionally. It consists of formal clothing and a gown and is only worn for exams (although you can take off your gown and tie as soon as you get in the exam hall) and matriculation, which is a ceremony in which you officially become a member of the university.
However, for the vast majority of the time we dress in normal, everyday clothes. We turn up to tutorials in a t-shirt and jeans, and sometimes go to early morning lectures barely out of our pyjamas!
Reality: Most Oxford professors are forthcoming and friendly. The relationship students here have with their tutors is very different to the relationship pupils at school have with their teachers. Tutors have a great deal of respect for you and value your opinion. Many students find that they get on very well with their tutors and aren't simply treated as inferiors, but with great consideration.
Reality: This simply isn't true. Once you get to Oxford, you'll realise that the vast majority of students (and all of the tutors) do not care what school you went to or what background you've come from. When interviewing prospective students, tutors are looking primarily for academic potential, not for things such as how well you enunciate your words or how well you dress. In 2016, Oxford offered more places to state school students than ever before, and the proportion of state school offers has continued to increase since then. Oxford is for people who are enthusiastic, talented and passionate about their subject, regardless of their background.
Reality: We all get stressed from time to time, but there are plenty of systems in place designed to help you deal with stress. On a university-wide level, there is the Oxford Counselling Service and the Oxford Nightline, both of which offer completely confidential support to any student.
Here at Teddy Hall, the welfare supervision is also superb. We have a College Nurse and a College Chaplain, who are both experienced counsellors available to talk to you about any issues you may encounter during your time at university. We also have both a male and female undergraduate Welfare Officer, who are elected by the student body to be in charge of the welfare of the undergraduate body here at Teddy Hall. The Welfare Officers are assisted by a team of Peer Supporters – students who go through roughly 30 hours of training and are there to discuss any issues you might be having.
If for whatever reasons you need support or just somebody to talk to, then there's definitely someone who can help you.
Reality: You may be asked some unusual questions, but the tutors are not trying to trip you up. Instead, they're looking to see how you think and how you cope when you're given a question that you might not be expecting or haven't thought about before. The tutors will be looking to challenge you and see that you're able to think independently and critically. Don't worry if you get the wrong answer or if you make a mistake – that's completely normal and everybody finds their interviews hard. Don't be put off by people who claim their interviews were easy!
You may have to stay for a few days for your interviews and you will usually have at least two interviews, although you may have more, depending on your subject and other circumstances. For more information, check out the University's advice on interviews.
Reality: For UK-based students, the tuition fees at Oxford are the same as most other universities and there is an extensive range of university bursaries and grants available. Your financial background shouldn't be a reason why you can't come to Oxford. More information about Oxford's fees and funding is available here.
Here at Teddy Hall, we have a number of scholarships and bursaries that are on offer to support students who come from lower socio-economic backgrounds and the College also has a hardship fund to which students can apply. In addition to these aids, academic scholarships and prizes are awarded to students who do particularly well whilst they are here.
Any Questions?
Hopefully, this answers a lot of questions you might have about studying at the College, but if not then please feel free to contact our Schools Liaison Officer, Luke Maw, or our Admissions Officer, Scarlett Nash. Alternatively, take a look at the useful links section below.
Useful Links
Pathways
Pathways is an initiative coordinated by the colleges of the University of Oxford. The programme aims to provide information, advice and guidance on higher education and Oxford to academically able students, and staff members, in non-selective state schools with little history of student progression to Oxford. Events are held, free of charge, in Oxford for students in Years 10 through to 13. More information about each of the events can be found on the Pathways website.
University of Oxford Admissions
There is lots of extremely valuable information on the main University of Oxford website for anyone looking to apply – see the links below to find out more about each aspect of the application process.
Where Next?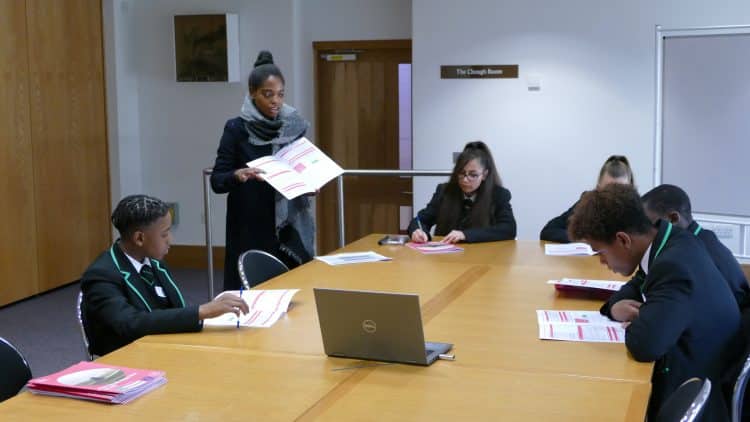 St Edmund Hall hosts Brilliant Club Scholars Programme for secondary schools
4 Nov 2019