Revd Dr Zachary Guiliano
Fellow by Special Election
Zack is a Career Development and Research Fellow, and the College Chaplain.
During Hilary Term, Zack is available to meet students and staff by appointment only. His dedicated office hours in College are every Wednesday between 1:30pm-4:30pm. He is happy to meet any member of college on any matter of concern.
Zack completed his BA in Biblical Studies at Evangel University, his MDiv in Theology at Harvard Divinity School, and his PhD in History at the University of Cambridge, where he was a Gates Cambridge Scholar.
As an academic and former journalist, he is the author of various articles, essays, and reviews and the co-editor of two volumes in the series Studies in Episcopal and Anglican Theology.
His research focuses on the history of biblical interpretation, prayer, and preaching. His first book considers how a collection of sermons commissioned by Charlemagne shaped religious practices in the Latin West. It will be published in early 2021 as The Homiliary of Paul the Deacon: Religious and Cultural Reform in Carolingian Europe (SERMO 16, Brepols). He is now at work on a project about power and poverty in the Middle Ages, considering how the Gospel of Luke and the thought of its most important medieval interpreter, Bede, affected practices of charity, work, and ownership.
He recently finished serving as assistant curate at St Bene't's Church, Cambridge, and as assistant chaplain at Jesus College Cambridge. He is an amateur musician and enjoys cooking, breadmaking, and hospitality.
Melissa, his wife, is a Soprano who trained at the Royal Birmingham Conservatoire. They are both natives of Peoria, Illinois.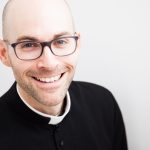 Revd Dr Zachary Guiliano
Career Development and Research Fellow
Chaplain
Fellow by Special Election