Revd Dr Zachary Guiliano
Career Development and Research Fellow in Early Medieval History
Zack is a Career Development Research Fellow in Early Medieval History, and the College Chaplain.
He is a tutorial affiliate of the Faculty of History and associate member of the Faculty of Theology & Religious Studies.
Zack is available as a pastoral advisor to students and staff, and in termtime his dedicated office hours in College are every Wednesday between 1:30pm-3:30pm. He is around throughout the week, especially around service times, and happy to meet any member of College on any matter of concern.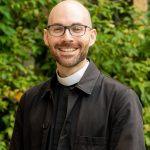 Revd Dr Zachary Guiliano
BA (Evangel), MDiv (Harvard), PhD (Cambridge)
Career Development and Research Fellow in Early Medieval History
College Chaplain
Tutorial affiliate in History
Associate member in Theology & Religious Studies