Postgraduate Scholarships
Scholarships available by direct application to the College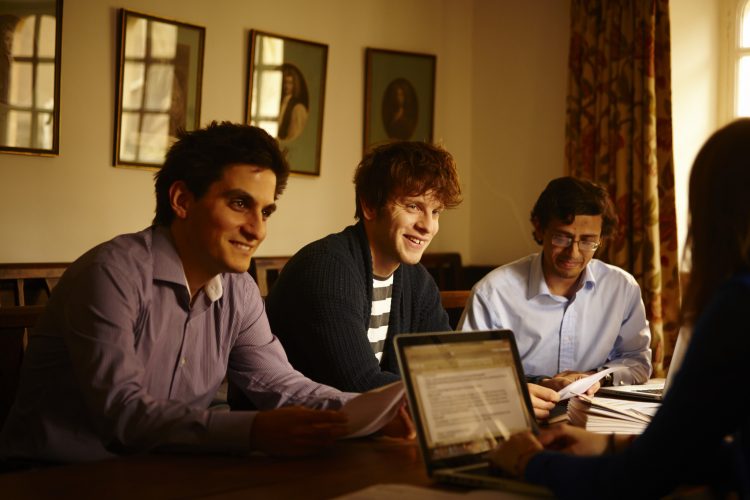 You can apply for our scholarships if you are an applicant to, or current member of, the University of Oxford for a research programme for which St Edmund Hall admits graduate students (please see here for details of our courses). All awards are conditional on the holder becoming a member of St Edmund Hall.
Up to three William R Miller Postgraduate awards – each in the form of a rent-free College room (present value approximately £6,000 p.a.). The awards will be made for one academic year to students entering the first or second year of a research degree (DPhil or MRes) in the academic year 2021-22.
One Emden Doctorow postgraduate award to the value of £5,000, to be awarded for one academic year to a student entering the first or second year of a DPhil in the Social Sciences in the academic year 2021-22.
One E.P.A. Cephalosporin postgraduate award to the value of approximately £3,500 p.a. to be awarded for three or four years to a student commencing a DPhil in the academic year 2021-22 to conduct research in the medical, biological or chemical sciences, and whose research falls within the interests of the E.P.A. Cephalosporin Fund.
Up to Two Pontigny Scholarships of £3,000 p.a. each. Each awarded to a student studying towards a research degree in the academic year 2021-22 who will take a leading role in fostering academic exchange between the MCR and SCR. Applicants must be within the period of full fee liability for the duration of the award. This award may be renewed on a competitive basis in future years at the discretion of the College. If you wish to be considered for this award, you must also submit a short description of how you plan to foster academic exchange between the MCR and SCR.
The deadline for the above scholarships has closed and no further applications may be considered. The College aims to communicate decisions to all scholarship applicants by the end of March 2021.
St Edmund Hall-HEC Scholarship
We are delighted to announce a new scholarship for a graduate student at St Edmund Hall. This scholarship will start in MT 2021 and has the value of £10,000. It has been set-up to facilitate meaningful collaborations between St Edmund Hall and HEC, Montreal. The successful candidate will be responsible for fostering existing collaborations, particularly in the remit of developing technological solutions to aid clinical populations. They will also be interested in the wider remit of inter-disciplinary work, and willing to be involved in the day-to-day running the Centre for the Creative Brain at Teddy Hall, or other appropriate forums.
Eligibility criteria:
Studying for (or about to start) a DPhil in Neuroscience
Interest in developing novel computer interfaces for clinical populations
Willingness to collaborate with, and travel to, Montreal
Intent to work with St Edmund Hall and HEC Montreal to foster ongoing collaborations
Intent to facilitate inter-disciplinary work through, for example, taking a role in the Centre for the Creative Brain at St Edmund Hall
How to apply:
Applicants should send a copy of their CV and a cover letter (maximum one page) outlining how they meet the eligility criteria to admissions@seh.ox.ac.uk by the closing date of 21 July 2021.
Scholarships for which University of Oxford applicants are automatically considered
Clarendon Partnership Awards
We are offering prestigious Clarendon Partnership Awards for entry in 2021. The Clarendon Fund is now open to students of all nationalities. The scholarship award process is conducted by the Clarendon Fund following nominations from departments and faculties.
The Specific Partnership Awards part funded by St Edmund Hall and available for 2021 entry include:
DPhil in Old or Middle English – Bruce Mitchell
Bruce Mitchell (1920-2010) was an outstandingly distinguished and famous scholar, whose text-books on Old English are classics in the field. He was a Fellow and a Tutor at St Edmund Hall from 1955 to 1987, and after his retirement was elected an Emeritus Fellow. The Bruce Mitchell Scholarship has been made possible by the generosity of his widow, Mrs Mollie Mitchell.
DPhil Law – William Asbrey
This award is made possible thanks to the generosity of Mr William Asbrey, to support a promising graduate student commencing a DPhil in Law. William Asbrey won a state scholarship and came to the Hall to read Law in 1949. This was followed by National Service in the Royal Air Force. He was a solicitor in his home town of Kettering, Northamptonshire and made much of his wealth on the stock market. He was a keen follower of cricket and politics. When he died in 2015, he left his entire estate to the Hall.
DPhil Medieval and Modern Languages (French) – Besse
DPhil in any subject considered by the College – Frederick Brockhues
DPhil in Materials or Biosciences – Badman
This scholarship was generously set up by Paul Badman (1965, Metallurgy) and Dr Rosemary Badman to support a graduate research student in the fields of Materials or Bioscience.
Routledge Scholarship
A scholarship of £6,000 awarded annually to a student on the MSc in Comparative and International Education. All those who apply for the programme by the 2 March 2021 deadline are automatically considered by the Department of Education. The fund is intended to serve a student who may not otherwise be able to enrol.
William Asbrey BCL Studentship
A studentship of £10,000 awarded annually to a student on the BCL. The studentship is jointly funded by the Asbrey legacy and the Law faculty. Applicants are automatically considered for the studentship by the Law Faculty.
Weidenfeld-Hoffmann Scholarships and Leadership Programme
Each year the College can support five partnership awards with the Weidenfeld-Hoffman Scholarship and Leadership Programme. The scholarship provides full fees and stipend with the College contributing £7,500 to living costs each year. This is largely for Masters courses lasting one year. Interested students can find out more information and how to apply on the Weidenfeld-Hoffman website.
Our contribution to several of these awards is made possible by the generous contributions from the Julius Baer Foundation.
Scholarships available by application to other institutions
China Scholarship Council – University of Oxford Scholarships
Up to twenty scholarships are available for Chinese nationals, ordinarily resident in the mainland Peoples' Republic of China, who are applying to start a new DPhil course at Oxford. These awards include all university and college fees, a grant for living expenses and a return flight from China to the UK. More information is available on the University website.
The Jarvis and Constance Doctorow Fellowship
Awarded for one year to a student who has just completed an undergraduate programme at Columbia College and who wishes to pursue a Masters degree in the Social Sciences at St Edmund Hall. Further information from Columbia College.
You might also be interested in...