Fellowship Lunchtime Lectures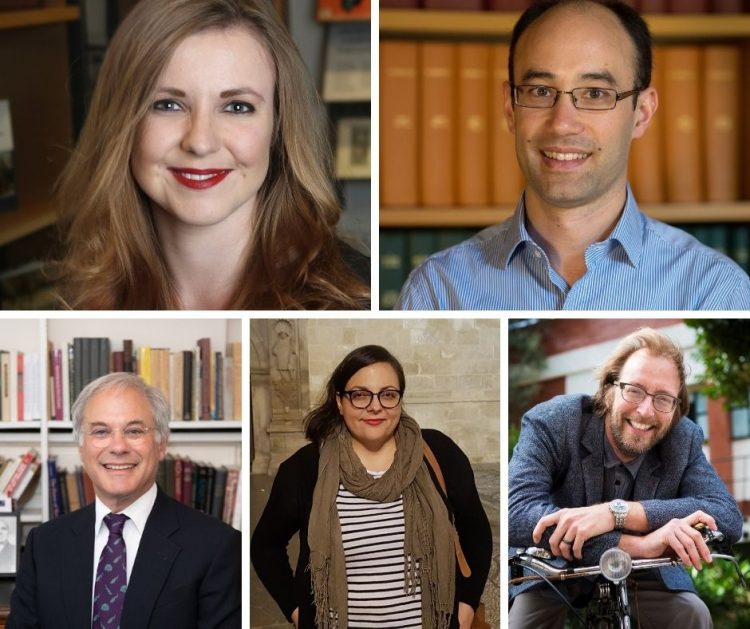 The St Edmund Hall Fellowship Lunchtime Lectures aims to highlight the incredible depth and breadth of research across the College.
During each term four Hall Fellows present their research to an online audience, sharing a particular insight into their research. Alumni, students, staff and academics are welcome to attend these talks making them one of the most accessible academic lectures available to the community.
The lecture series was established in Michaelmas 2020 by Professor Andrew Kahn, Vladimir Potanin Tutorial Fellow of Russian Literature and Modern Languages and Steward of the Senior Common Room.
Lecture Programme - Trinity 2021
| Week | Speaker | Topic |
| --- | --- | --- |
| 2 | Professor Mark Williams | Isles of Enigma: A Wonder-Voyage Tale from Medieval Ireland |
| 4 | Professor Henrike Lähnemann | TBC |
| 6 | Professor Adrian Briggs | Back to square one: Forty years of trying to make sense of the law |
| 8 | Dr Ricardo Perez De La Fuente | TBC |
Past Lectures
Below is an archive of past lectures. Some video recordings of the lectures are available to watch on the St Edmund Hall YouTube Channel.
Michaelmas Term 2020
Professor Andrew Kahn, 'Russia's First Dangerous Book: the Story of Alexander Radishchev's Journey from St Petersburg to Moscow (1790)', 23 October 2020. Watch Professor Kahn's Lecture
Dr Joanna Bell, 'Judicial Review under Review', 3 November 2020.
Professor Lars Jansen, 'Genes, genetics and epigenetics', 20 November 2020. Watch Professor Jansen's Lecture
Dr Luke Parry, 'Worms: a half a billion-year history', 4 December 2020. Watch Dr Parry's Lecture
Hilary Term 2021
Dr Alex Vukovich, 'Ritual and Politics in Rus and Early Muscovy', 29 January 2021. Watch Dr Vukovich's Lecture
Professor Wes Williams, 'A Year in the Life of the Director of TORCH', 12 December 2021.
Professor Nicholas Davidson, 'Living with Inquisition', 26 February 2021.
Professor David Dupret, "Joining the Dots' In Memory', 12 March 2021.