Medieval halls were established to house and educate undergraduates, many of them predating Oxford's colleges. St Edmund Hall was the last of these many medieval halls to survive, becoming a fully incorporated college in the twentieth century.
The first documented reference to St Edmund Hall is from 1317, which indicates an earlier foundation. Although Oxford's oldest colleges date to the mid-thirteenth century, it was not until the sixteenth century that the colleges commonly admitted undergraduates. St Edmund Hall therefore has a claim to be the oldest surviving academic society to house and educate undergraduates in any university – and it continues to provide an inspiring home for our students today.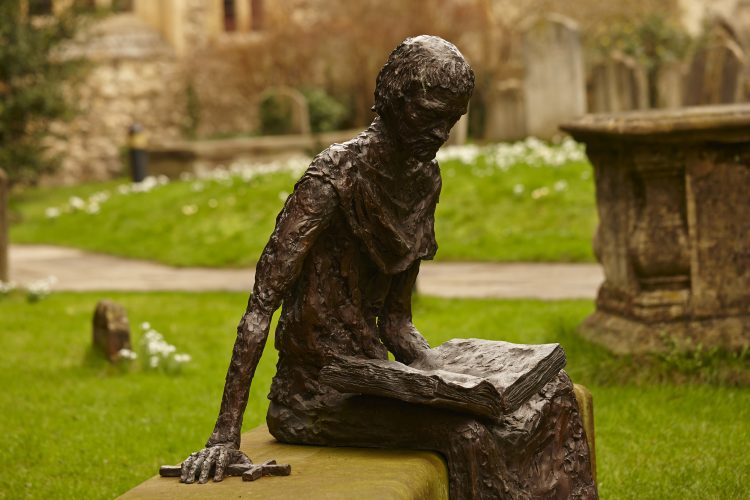 It takes its name from St Edmund of Abingdon, former Archbishop of Canterbury, who taught in a house on this site in the 1190s.
From the sixteenth century neighbouring Queen's College oversaw the running of St Edmund Hall, but in the early twentieth century there was a gradual transfer of powers to the Hall. This culminated in 1957 when it was granted its charter of incorporation as a college. From respect for a history extending over eight centuries, it has kept the name St Edmund Hall.
Between the fifteenth and nineteenth century the Hall was connected to a number of religious movements. In the early fifteenth century it was one of the last strongholds of the Lollardy movement in Oxford. One Principal, William Taylor, became a Lollard preacher and in 1423 was condemned for heresy and burnt at the stake. Another Principal, Peter Payne, was a follower of John Wyclif and fled to Prague in 1413, where he became a leading figure of the Hussite church.
In the late seventeenth century the Hall was home to a number of non-jurors – men who, from loyalty to the Stuarts, refused to take oaths to their successors after 1688. These included the antiquary Thomas Hearne, who matriculated as an undergraduate in 1696 and became one of the Hall's most distinguished scholars.
The College's old buildings are concentrated in the Front Quadrangle, which is one of the most attractive in Oxford. The Chapel and Old Library were built at the end of the seventeenth century. This was the first Oxford library to be built with shelves along the walls, and the last to be furnished with chains. The east window of the Chapel was reconstructed in 1865 with stained glass by Edward Burne-Jones and William Morris, and the painting behind the altar, Supper at Emmaus, was painted in 1957-8 by Ceri Richards. The Hall now also incorporates the Church of St Peter-in-the-East, which has been the College's library since 1970, and the graveyard surrounding it.
c.1175: Birth of St Edmund of Abingdon
1262: Site on the Front Quad sold to Thomas of Malmesbury
1272: Site of the Front Quad granted to Osney Abbey by Thomas of Malmesbury
1315: Williams Boys becomes first recorded Principal of St Edmund Hall
1413, Principal Peter Payne flees to Prague
1423: Former Principal William Taylor burnt at the stake
1438: John Thamys appointed Principal
1469: Front Quad reaches present extent
1531: Queen's College obtains lease of the Hall
1546: The Crown sells the Hall to the property speculator William Burnell; Ralph Rudde becomes Principal
1553: Williams Dennysson buys the freehold of the Hall
1658: Thomas Tulle appointed Principal
1676: Stephen Penton appointed Principal
1682: The Hall acquires its Chapel
1685: John Mill appointed Principal
1691: White Kennet appointed Vice-Principal
1696: Matriculation as an undergraduate of the famous antiquary Thomas Hearne
1783: Isaac Crouch appointed Vice-Principal
1861: Oronhyatekha, Mohawk from Ontario, Canada, physician, athlete, and native statesman, matriculated at the Hall
1864-1913: Edward Moore, authority on Dante, long-standing Principal at the Hall
1929-51: A. B. Emden, Principal of the Hall
1951-79: J. N. D. Kelly, patristics scholar, Principal of the Hall
1957: St Edmund Hall incorporated as a College