Wednesday Workshops
The Wednesday Workshops are student-led creative writing workshops that provide an informal and inclusive opportunity to discuss new writing among peers in a relaxed atmosphere (in recent years, the college bar!).
If you have a piece of writing that you would like to discuss, all you need to do is bring along about ten photocopies of it and a pen. At the workshop, you will be invited to read your writing aloud, and you will then receive feedback on it from anyone who is present.
For those new to the Wednesday Workshops, there is no pressure to bring work with you, although you are encouraged to give feedback on other people's work. We meet every Wednesday evening during term-time in the College Bar.
The workshops are student run, though Fellows and staff members sometimes come along too. For more information, feel free to contact English tutor Erica (erica.mcalpine@seh.ox.ac.uk).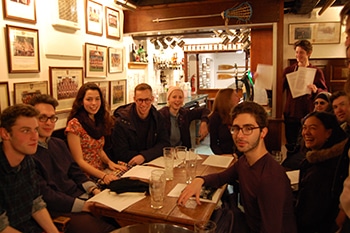 Anybody is welcome to attend (staff or student, undergraduate or postgraduate, from any subject).
History of the Wednesday Workshops
The Wednesday Workshops have been fostering creative writing at the Hall in one form or another for nearly 20 years. Originally they were run by Emeritus Fellow and former English tutor Lucy Newlyn; in 2016, they moved to the bar and and are student led.
How the Workshops began
Lucy, in collaboration with Hall poet and alumna Jenny Lewis (1998, English), used workshops in 2000-2001 as a means of enlivening Critical Commentary classes. At this time, she was putting together an anthology of Hall writing, to celebrate the Cornish Chough – the bird which features in the College's coat of arms and which was beginning to re-settle in Cornwall after years of absence. Some of the early workshops involved poems collaboratively written on this theme, and they made their way into the anthology, Chatter of Choughs.
After this, in 2002-4, the Workshops were involved in a collaborative teaching/research project. Lucy Newlyn and Jenny Lewis investigated the benefits of integrating creative writing into the academic study of English, in an experiment funded by the Institute for the Advancement of University Learning. As a result of the experiment, they published Synergies: Creative Writing in Academic Practice, a two-volume anthology. The project received excellent reviews and the methodology has been adopted by several creative writing courses elsewhere.
Read more about 'Synergies' in The Guardian.
The Workshops today
After this, the Workshops settled into its current, more informal style. Students who have participated in them include prize-winning poets such as Caleb Klaces, Charlotte Geater and Amy Blakemore. Lucy retired in 2016, after 32 years of teaching at the Hall and passed the responsibility of running the Workshops to current students.