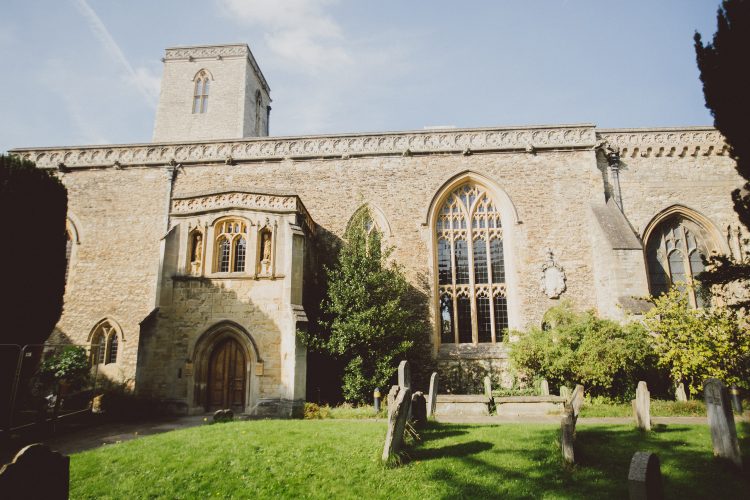 The College Library is housed in the 12th-century church of St Peter-in-the-East, one of the oldest churches in the city of Oxford. The Library holds approximately 40,000 titles, including multiple copies of key textbooks which focus on the main and special subjects in Oxford undergraduate degrees. The titles are continually reviewed to ensure that the most up-to-date publications are available. Students' requests for new material are very much welcomed.
WiFi internet access is available throughout the Library and power points for personal laptops are fitted on all reader desks. A number of computer terminals provide access to SOLO (Search Oxford Libraries Online) to search the online catalogue covering the Library's stock as well as material in the Bodleian, Faculty and Departmental libraries.
The Library provides a comfortable, welcoming and supportive study area for all members of College.
Library Closure
St Edmund Hall's Library is closed to students until further notice.
An enhanced remote service is available.
Book due-dates: All current book loans have been renewed until 12.10.20 (Monday 1st week MT). In the event the Library remains closed after that date, loans will be automatically renewed for a further period.
Hall Library services during closure
Assistance and advice about access to electronic resources will be available via email at library@seh.ox.ac.uk throughout the closure.
For as long as e-commerce and delivery services are available, books can be requested and posted to UK addresses. Non-UK addresses will also be considered on a case by case basis.
To request any of the services please contact library@seh.ox.ac.uk or call 01865 279062 and provide as much detail as possible about the resources you require.
Further Information
Opening hours
The Library is now closed but operating a remote service.
Staff are available Monday to Friday between 8:30am and 5pm.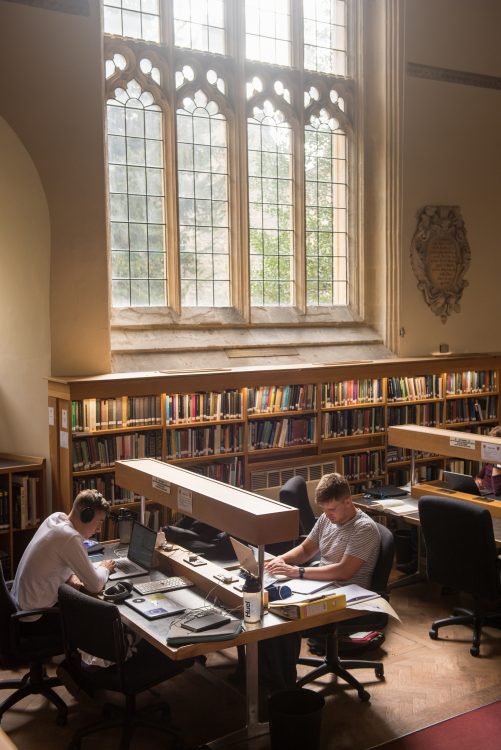 Our job as librarians is to do our best to make sure you can access material. If, for whatever reason, you find using the library difficult, permanently or temporarily, big issue or small, 'official' or not, we are here to help.
These are some of the things we do currently:
Book-delivery to pidges and rooms. Email the library: library@seh.ox.ac.uk.
Ask or email if you need help finding, reaching, or carrying books.
Librarians will always be willing to sit down with you and your reading list to help you figure out how to find each item.
We can set things up around you if none of the above seems appropriate. To discuss anything of this nature, please contact our Assistant Librarian, Sophie Quantrell: sophie.quantrell@seh.ox.ac.uk.
Equipment
Library equipment is for all students to use. We currently have:
| Equipment | Where to find it |
| --- | --- |
| Coloured overlays, magnifying sheets, wrist rests | In the tiny drawer on the end of the card catalogue |
| Raised laptop/ work stands | Please ask staff the first time. Otherwise, behind the library desk in the labelled flap cupboard. |
| Book stands | Around the library, card catalogue, chancel |
| Snake weights to hold pages open | Ask librarians |
| Health and Well-being book section | Turn left down the D-B aisle as you come into the library. Small bookcase straight ahead. |
If there is any other equipment that you would find useful for any reason, please do let us know.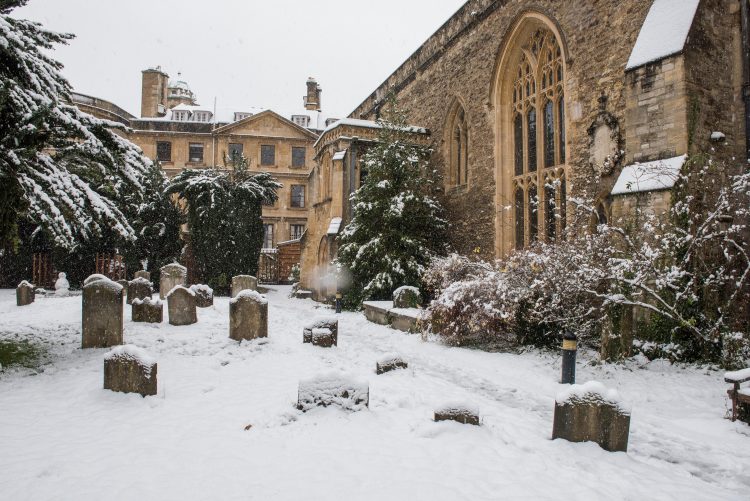 The Library is open only to members of St Edmund Hall. Other members of the University may be admitted to read in the Library by appointment during staffing hours, if the book required is not held by any other University library in Oxford. If you wish to consult an item in our collection please contact the Librarian by email in advance before visiting.
Viewing St Peter-in-the-East
St Peter-in-the-East, a beautiful 12th-century church, is now the St Edmund Hall college library. As this is a working library for our students, we are unable to arrange visits for tourists or tour groups.
Prospective students and members' personal guests are welcome to visit the Library briefly as part of their visit to the College. If you would like to bring a small group of visitors to see the Library, kindly contact the Librarian in advance. During term-time, it is best to arrange this for before 11:00 am, usually the quietest period. During the final examination period (approximately end of April to end of June), the Library cannot accommodate any group visits.
External visitors wishing to access St Peter-in-the-East for either study or research, or for those with a connection to the church, please contact the Librarian in advance: for these purposes, we usually offer access during the vacation periods.
Visitor Guidelines
During term time, visitors view the library from the security gate/main desk area only, to minimise disruption to study.
Please silence all mobile phones and other devices before entering the library.
Visitors need to maintain silence in the library and in the South Porch.
Visits should last no longer than five minutes.
Groups are ideally comprised of six people, to a maximum of ten, and accompanied by a member of St Edmund Hall.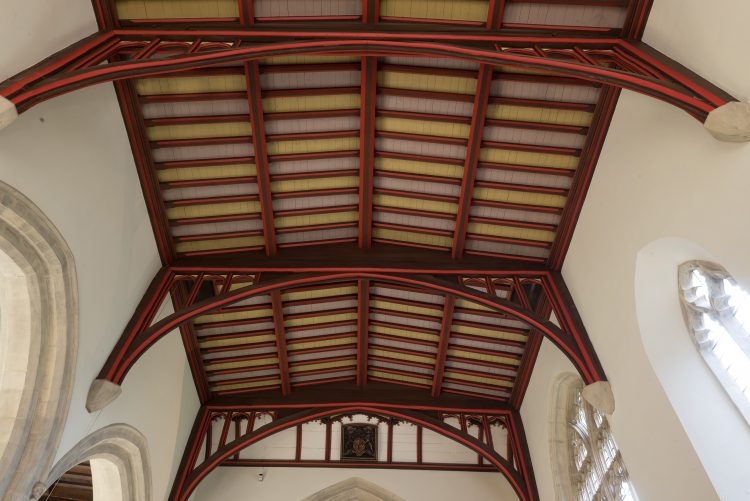 Aularians (alumni of St Edmund Hall) who would like to visit the Library briefly or show the Library to friends and family as part of a visit to College should contact the Librarian, preferably in advance of their visit. If you find yourself at the Lodge, please ask and we will do our best to accommodate you. Please note the Library is very busy in term time, and we hope you will understand why we would rather not disturb students during this time.
Old Members who are staying in College and would like to access the Library or the Aularian Room during this time are welcome to apply to the Librarian. Those living in Oxford and wanting ongoing access to the Library should apply in writing to the Librarian. The Library does not have the space to give regular access to all those who are not current members, but admissions during quieter times are certainly possible. Borrowing privileges are restricted to current members who have valid University cards.
Donations to the Aularian Collection
The College is particularly proud of its collection of publications by Old Members and we are always keen to receive new books. Our collection policy for the Aularian Bookshelf is flexible but since space is at a premium the emphasis is on books authored and edited by Aularians. We cannot give space to journal articles, leaflets, or other similar booklets not directly related to St Edmund Hall or to other non-monographic items more suitable for donation to the College Archive than the Library. We are not able to accommodate duplicates either.
Notwithstanding these restrictions, with the Aularian Room directly above the narthex we are in a really good position to display the scholarly and literary output of alumni in an appropriate manner. We are very grateful for the support and donations the Library receives from Aularians, and the fond memories it continues to inspire.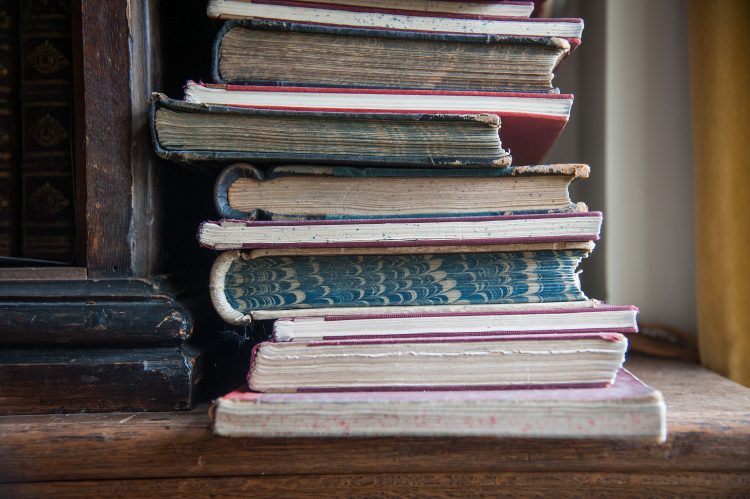 The Hall Library was founded on the basis of donations. Our first collection of books was begun under the auspices of Dr Thomas Tullie (Principal 1658-1676), who initiated a system by which members at the end of their studies would make a gift to the Hall in the form of either books or plate. Gifts of volumes have formed an essential part of our accessions, adding to our academic collection and maintaining the College's connections with its Old Members. We are immensely grateful for this continued support and the donations the library receives, large or small.
Our library acquisitions policy is flexible; we can accept a wide range of materials, but the emphasis is on items relevant to undergraduate and/or postgraduate studies. Space is at a premium, which means that we are engaged in a continual process of deaccessioning, as well as making new acquisitions. We cannot give space to duplicates and we only keep the most recent editions of undergraduate textbooks.
Those thinking of giving books to the Library are very welcome to contact the Librarian in advance to discuss any potential donation or bequest. Donors are always welcome to give books on the understanding that the Library may not be able to add all the titles to stock.
Financial donations to support the work of the library, including support for the Old Library to catalogue our collection and for its preservation and conservation are always welcome. If you are interested in giving to the College Library, please contact the Development & Alumni Relations Office on 01865 279055 or email development.office@seh.ox.ac.uk.
Alumni can find further information about donations to the Aularian Collection in the tab above.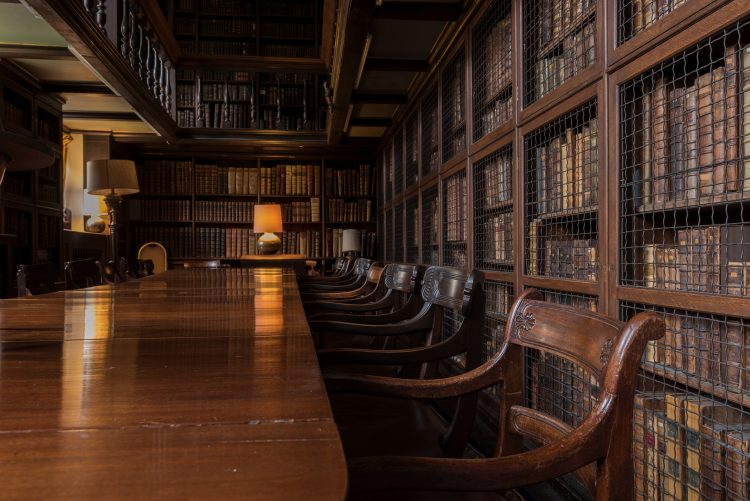 Old Library
The Old Library was completed in 1686 and is reputedly the first Oxford library to have shelves against the walls, and the last to chain its books.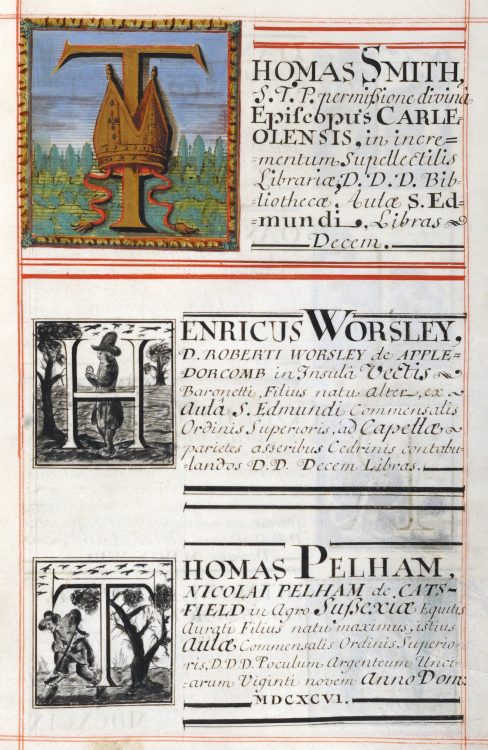 Archive
The St Edmund Hall Archive exists to collect, manage and utilise the recorded heritage of both the administrative and social aspects of the College.