We work with bright students and their teachers, offering information, advice and guidance on what top universities, including Oxford, are like, what such an education offers, and how the application process works. We're committed to empowering young people to make the right decisions about their future for themselves, as well as giving students access to the very best opportunities.
Remote Resources
We've been busy producing a wide range of remote reources to go alongside our current remote session provison. The resources include student Q&A videos, virtual tours and application videos. We will continue to add to these resources over the coming months.
The Outreach Team at St Edmund Hall is the named point of contact for schools in our link regions in the East Midlands as listed below, in accordance with Oxford University's Regional Outreach Strategy. A student's link region will not affect their chances of making a successful application, with applications from all regions equally welcomed by each college in the University.
Oxford for East Midlands
St Edmund Hall are a part of the Oxford for East Midlands Consortium, working alongside Magdalen College and Lincoln College to deliver larger scale initiatives in the region. More details about Oxford for East Midlands and our exciting upcoming projects can be found at ox.ac.uk/oxfordforEM
School Visits to St Edmund Hall
Visiting a University and meeting current students is an excellent way for pupils to learn more about higher education, and enable them to imagine themselves as students in the future. Our school visits are thoughtfully designed for students in KS4 and above to raise educational aspirations, as well as to provide students with the practical tools and insight they need to achieve their goals. You can find out how each element of our programme achieves these aims below.
What will a visit involve?
We offer a curated school visit programme with a range of activities designed to make the most of a day in Oxford, however we are happy to tailor visits to accommodate specific aims and schedules – just get in touch with us using the link on this page.
Sample Timetable
10:30am: Arrival at St Edmund Hall
10:40am: Welcome and Introductions
10:45am: Introduction to Oxford (talk)
11:30am: Tour of St Edmund Hall
12:00pm: Q&A Session with Student Ambassadors
12:15pm: Lunch (free of charge)
1:15pm: Afternoon Session
2:30pm: Depart
Afternoon sessions can be chosen from a list of activities including a trip to a University museum, a tour of a department, a talk with a tutor at St Edmund Hall and additional application talks.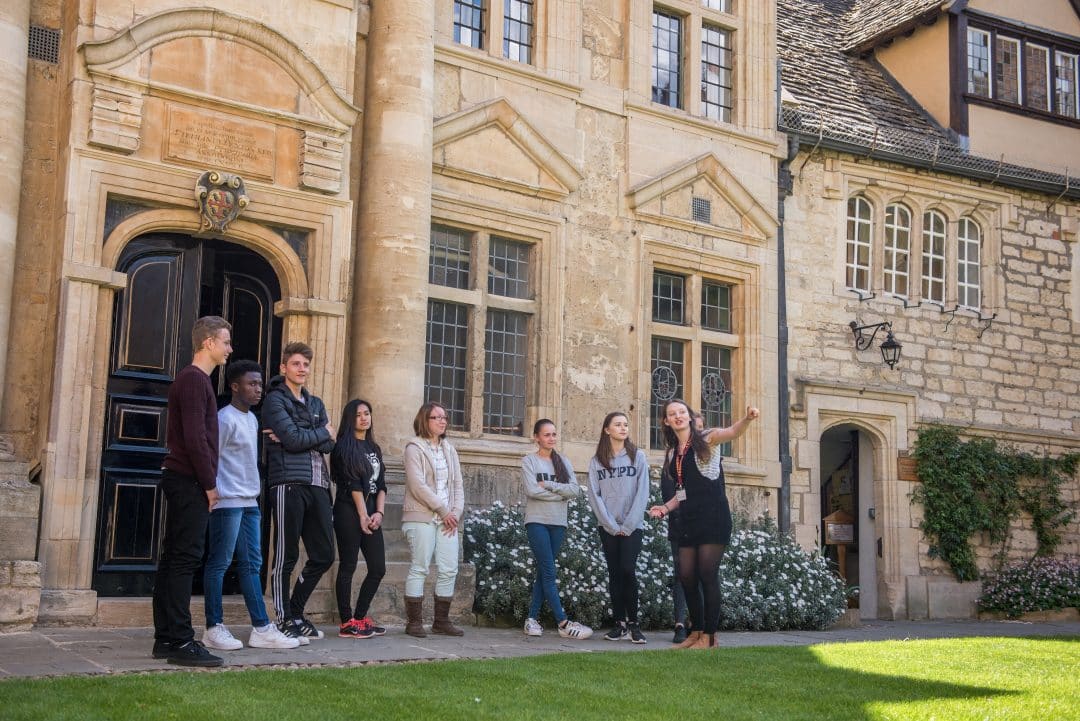 Hosting a visit at your school or college
Our Outreach Team make regular visits to schools and colleges in our link areas. We are happy to talk to students, staff, and/or parents about the University, and can also deliver Application and/or Interview Workshop sessions in the autumn term.
Talks Available
Further Information
We are always happy to hear from teachers, and will try wherever possible to help answer questions about our application processes, and advise on how you can best support and inform your students. Please contact Lizzie Fry, our Access and Outreach Coordinator using the link below:
Please note that due to limited resources we may only be able to offer a partial programme to schools and colleges with a strong history of sending successful applicants to Oxford.
GDPR
As part of an outreach event, we may collect personal information about participants to help organise the event and/or to help evaluate the event. The following form is an example of the type of form we use to collect information about participants: Sample Outreach Event Participant Form.
The following University of Oxford HEAT Privacy Notice applies to all data collected in this way: University of Oxford HEAT Privacy Notice.