Music Facilities at the College
Music Room
The College has a well-equipped and recently-renovated Music Room on the main Queen's Lane site (where all our first-year students are housed, together with some students from other years). It can be booked at the Lodge by any member of the College for individual or group practice. The Music Room includes a Yamaha piano, drum kit and a new PA system, with a state-of-the-art digital mixing desk, several speakers and microphones and a series of guitar amplifiers.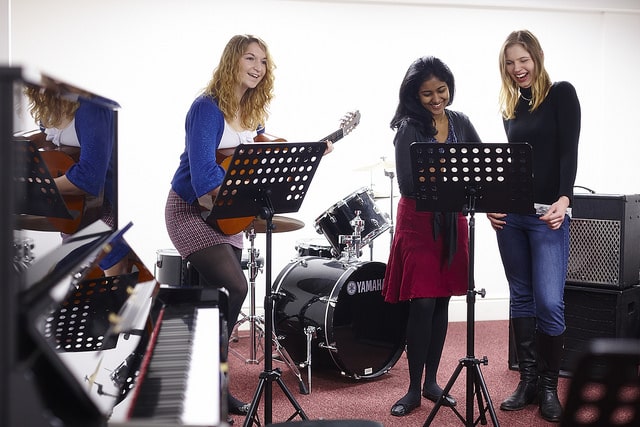 Pianos
We have two very good instruments on the main Queen's Lane site:
a beautiful 2008 Steinway B in the Wolfson (our main dining hall) – the next size down from a full-size concert grand, and
a Bechstein Concert 8 in the Old Dining Hall.
There is a new Hoffmann upright piano in the common room at one of our accommodation annexes, Norham Gardens (NSE). There are also two Yamaha Clavinova digital pianos that can be borrowed for use anywhere in College. Please contact the Director of Music for further details.
Harpsichord
The College possesses a lovely single manual Flemish harpsichord made by Andrew Garlick, housed in the Chapel. It can be played with the permission of the Director of Music.
Organs
The main organ in the Chapel, built by Wood of Huddersfield, is ideal for exploring the repertoire of the German baroque and is also used to accompany the chapel choir in diverse choral repertoire.
We also have a chamber organ made by Robin Jennings which sits by the altar. It is appropriate for both the scale and age of the building (which was consecrated in 1682) and enhances our repertoire of seventeenth-century music, particularly the verse anthems of composers such as Gibbons, Tomkins, Purcell and Blow.
Chapel
At the discretion of the Chaplain, and the Director of Music, the Chapel may be used for practice for organ, piano, harpsichord, choral and instrumental music, noting that this is a consecrated space and there is an expectation of due reverence.
Audio and Video Recording Equipment
The Director of Music has a Sony Music Video Recorder (designed especially for musicians) and tripod, plus a collection of high quality audio recording equipment and software. Students may borrow these to record their music performances.