Sustainability at St Edmund Hall
St Edmund Hall is committed to being recognised as one of the greenest and most environmentally sustainable colleges in Oxford. Our Sustainability Sub-Committee has been working with our 900 students and staff to greatly reduce our impact on the natural environment, manage resources that we impact in a sustainable way, and conserve and enhance biodiversity across all our sites. We outline below the work we have undertaken to create a baseline of data against which we can now track our progress, set meaningful sustainability targets and record activities and successes that we have achieved to date.
This page was last updated on Wednesday 22 March 2023, 15:36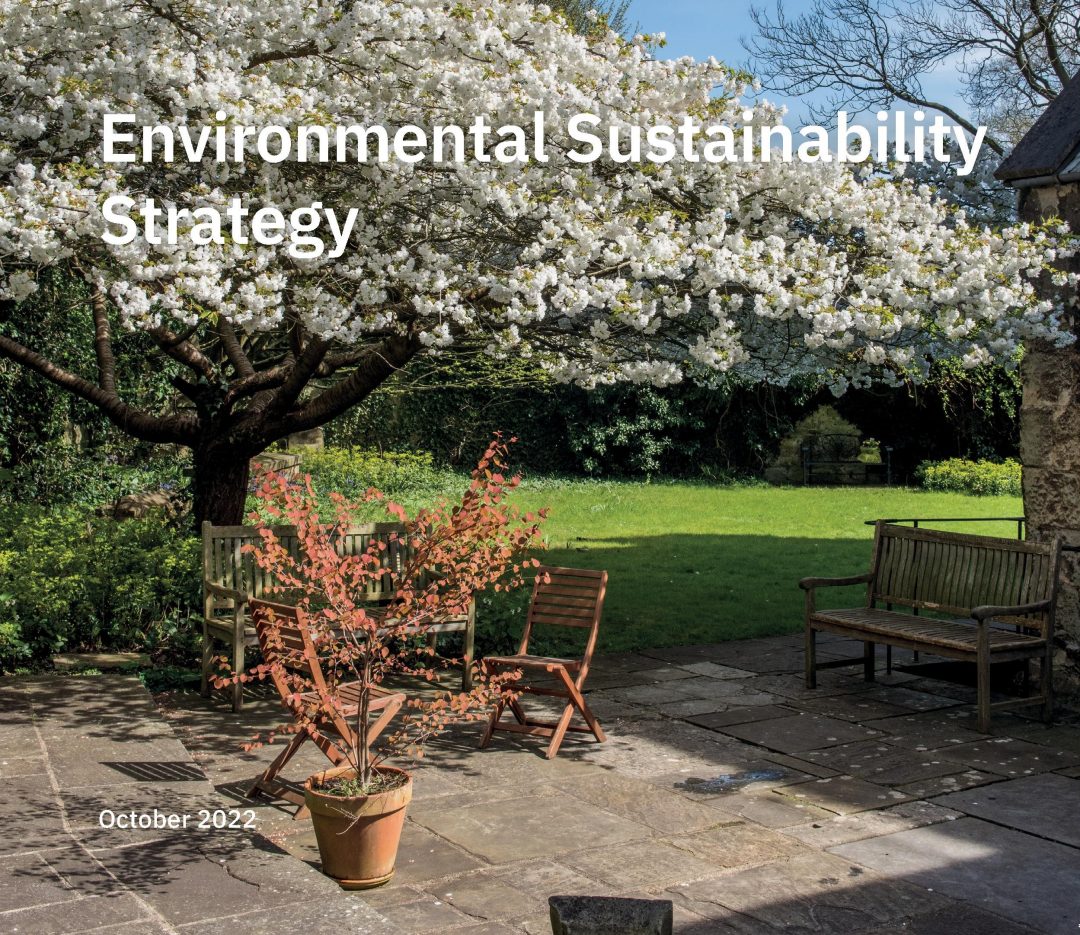 Environmental Sustainability Strategy 2022
This strategy sets out how we aim to transform the estate of this 800-year-old college into a sustainable and environmentally thriving site for future generations of Aularians.
Sustainability Dashboard
The below data summarises St Edmund Hall's energy and commodity consumption across all College owned sites from 1 October 2018 to 30 September 2022.
'Year' in the graphs above refers to the academic year (1 October – 30 September).
Please note that the College was only minimally populated from end of March 2020 to end Sept 2020 due to the nationwide lockdown, which led to a significant reduction in the need for heating on site.
The Hall also has a publicly available Utility Readings Dashboard website where further data can be viewed.
Our CO2e Emissions
CO2e, or carbon dioxide equivalent, is a standard unit for measuring carbon footprints. The idea is to express the impact of each different greenhouse gas in terms of the amount of CO2 that would create the same amount of warming (Global Warming Potential, GWP). The lower the CO2e, the lower the impact the activity has on the environment.
'Year' in the table below refers to the academic year (1 October – 30 September).
| Year | KGs |
| --- | --- |
| 2018-19 | 659,031 |
| 2019-20 | 672,075 |
| 2020-21 | 621,313 |
| 2021-22 | 621,783 |
Refuse
The College's refuse company has only recently started providing data on the weight of waste and the split between categories of waste. Below is the first year of data we have from the academic year 2021-2022. All food waste is sent to a local biodigester.
| Refuse Type | KGs | % |
| --- | --- | --- |
| General Waste | 66,957 | 56.07 |
| Mixed Recycling | 35,389 | 29.63 |
| Food Waste | 17,072 | 14.30 |
| TOTAL | 119,418 | 100.00 |
Other Commodity Use
The College is monitoring some key commodities to evaluate progress towards becoming one of the greenest colleges in Oxford. Gas and electricity usage data are available from the start of our monitoring period in 2018-19. Water usage data have only become available since 2019-20. The use of single use plastic bottles and drinks in aluminium cans has been reduced in the past four years and plastic bottles are no longer sold in College.
| Year | Electricity (kWh) | Gas (m3) | Water (m3) | Plastic Bottle/Aluminium Use (items) |
| --- | --- | --- | --- | --- |
| 2018-19 | 210,686 | 323,891 | Not Recorded | 15,635 |
| 2019-20 | 417,004 | 330,302 | 42,508 | 4,789 |
| 2020-21 | 632,475 | 305,354 | 10,466 | 121 |
| 2021-22 | 346,664 | 305,585 | 28,695 | 324 |
Biodiversity Baseline
The image below shows the results of a baseline audit of the Hall's biodiversity across Queen's Lane and NSE sites. Find out more about the College's biodiversity results in our 'Current Activities' section below.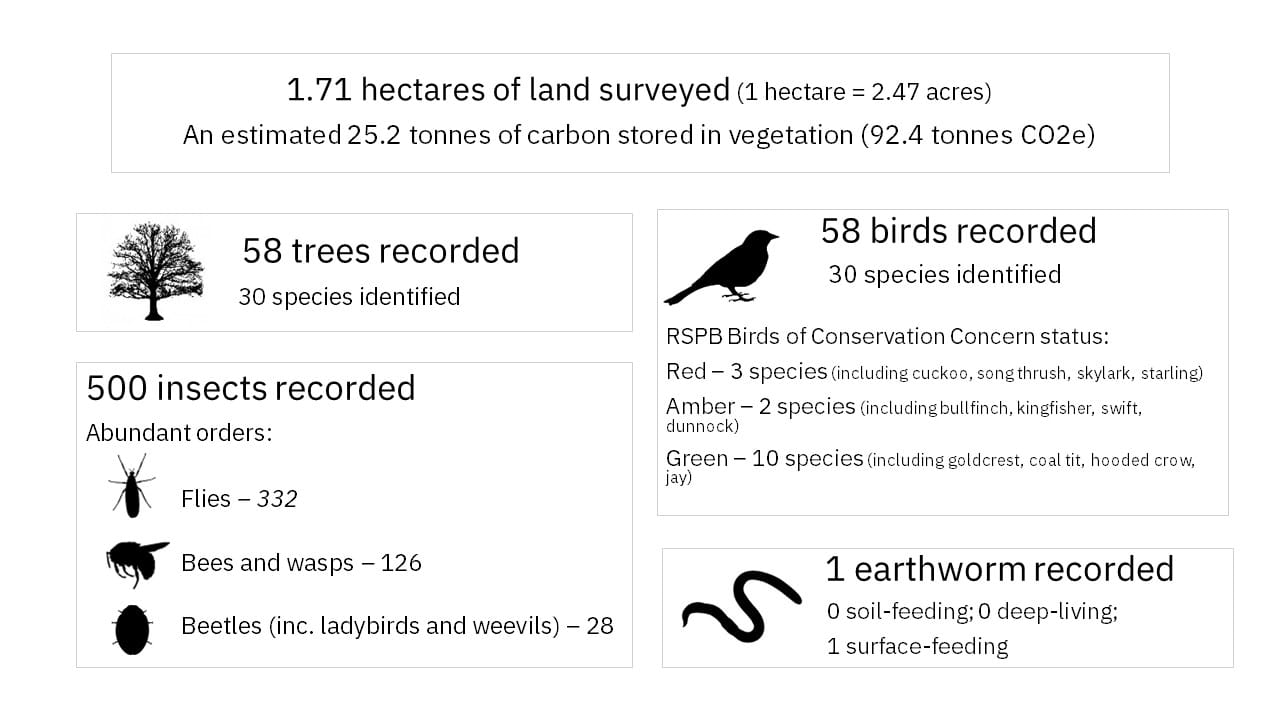 Our Sustainable Aims
Below is a summary of our key strategic aims. For more information, see the St Edmund Hall Environmental Sustainability Strategy 2022.
Energy
We aim to greatly reduce our energy use through upgraded heating and lighting systems, improved building insulation and a move towards more self-generated energy so that by 2030 we become as close as possible to net zero energy.
Waste 
We aim to reduce the amount of waste (food, plastics, paper, water, green waste, electrical items, and white goods), including the elimination of single-use plastics, and a move to a paperless system where possible.
Water
We aim to reduce the amount of water usage through improved water management, installing waterless systems and the recycling of water where possible.
Greenness & Biodiversity
We will increase the greenness and overall biodiversity of College sites, through measures including green walls and rooftop gardens, pollination friendly planting and tree planting, in order to achieve net biodiversity gain.
Carbon Footprint
We aim to greatly reduce our carbon footprint associated with transport to and from College (both locally and internationally), including use of electric vehicles and enhanced support for using sustainable transport options and carbon offsets.
Climate Conscious Investment and ESG Principles
The College's investments are made according to Martin School Principles and with regard to strict environmental, social and governance (ESG) policies. The Hall's 'St Edmund Hall Endowment – Investment Policy' is available to read on our website. This policy outlines our ESG Investment criteria.
Hall Statements on Sustainability