The Mystery of Hypnosis – how suggestible is your brain?
Event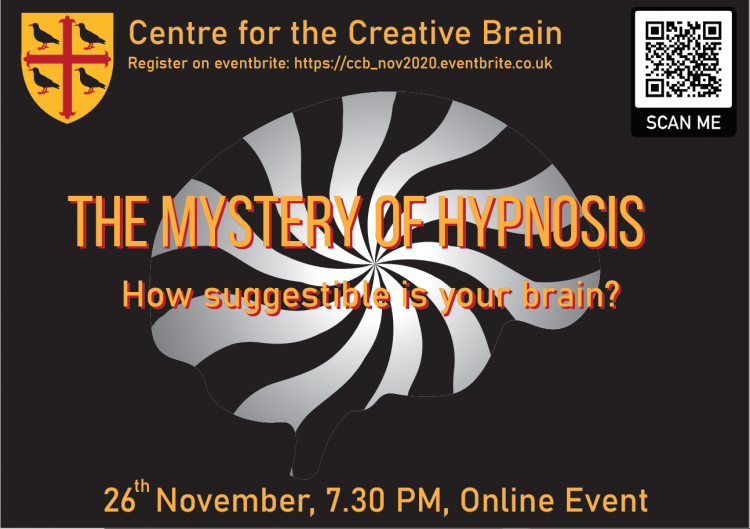 On November 26th, St Edmund Hall's Centre for the Creative Brain will present an evening focused on hypnosis and suggestibility! What makes people suggestible? How does hypnosis work? Why do we find it entertaining?
Dr. Erica Santarcangelo (University of Pisa) will talk about the physiological correlates of hypnotisability: what makes people prone to accept suggestions. You will learn more about her research on hypnotic susceptibility and its role in the relationship between imagination, perception and behaviour.
Jack Blackbourn, magician and hypnotist, will then join us to deliver some true magic! Jack is a consummate performer and a master of hypnotism, mind reading and mentalism. After his performance, we will discuss what makes hypnosis so fascinating and why we enjoy watching it.
Dr. Devin Terhune (Goldsmiths, University of London) will discuss the mechanisms underlying suggestion in hypnosis and placebo. Devin's research uses techniques such as MRI, EEG or non-invasive brain stimulation to characterise the neurocognitive profile of highly suggestible individuals.
The event is free and open to all. We welcome undergraduates, postgraduates, artists, academics, scientists, performers and all curious people.
The Centre for the Creative Brain is generously endorsed by St Edmund Hall and the Wellcome Centre for Integrative Neuroimaging, University of Oxford.
Registration
This event is free and registration is required.
Event Details
Date: 26 Nov 2020 (Thu)
Time: 19:30
iCal:Export
Location: Zoom (video conferencing)
Contact: Charlotte Stagg
Categories