AfOx Visiting Fellow, Dr Seifu Kebede-Gurmessa, joins the College for the summer
24 Jul 2018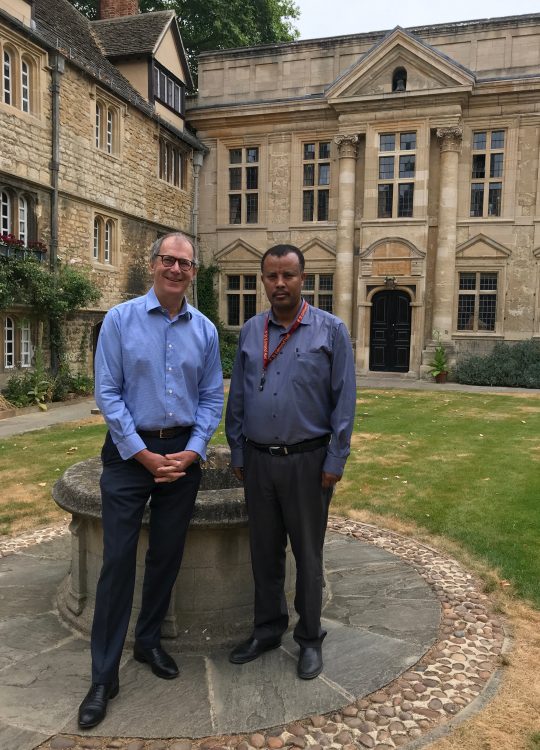 Earlier this month, Principal Keith Gull welcomed our first AfOx (Africa Oxford Initiative) Visiting Fellow, Dr Seifu Kebede-Gurmessa, to the College. Seifu is associate professor of Hydrogeology at Addis Ababa University, Ethiopia, and will be in Oxford for six weeks, working with colleagues at the School of Geography and the Environment.
The AfOx programme appoints up to three Visiting Fellows each year from African universities and research institutions to foster research or teaching in any field of study, and to facilitate collaborations between the University of Oxford and the individual appointed. St Edmund Hall supports AfOx Fellowships by providing accommodation and meals for visiting African academics. It is an initiative that was led by Keith Gull, and has now also been adopted by other colleges.
Seifu's research interests are groundwater hydrology and its multi-faceted functions for people and the environment. "Groundwater is the source of drinking water supply for 80% of the rural population in Ethiopia," he explained, "and the number is not very different in Africa. I use isotopes (222Rn, 18O, 2H, 13C, 14C, 3H) and chemical tracers (CFCs, SF6, Cl, Br) to understand how water moves in the subsurface environment: at what velocity – fast or slow; at what depth – shallow or deep; and in what way – diffuse or focused. These tools are useful in mapping the response of aquifers to external pressures such as climate change and human-induced pressures (e.g. infrastructure development). I apply these isotopes and other integrated approaches to locate sites for successful water well drilling in difficult environments in Africa."
In Seifu's area of work, it is also important to look at the governance issues around groundwater, in order to use it judiciously for human and environmental benefits. He has worked collaboratively with various international agencies (British Geological Survey, ODI, UNICEF, UNESCO, IAEA, WB) and government agencies, to look into how best to manage the sustainability of groundwater resources. Seifu has work experience in more than 15 African countries and has previously served the IAEA and UNESCO.
In Oxford this summer, he is collaborating with Katrina Charles and Rob Hope at the School of Geography and the Environment. They lead the REACH (Improving Water Security for the Poor) research program. "During the six weeks stay as an AfOx Fellow, I will write one scientific paper on the connection between groundwater and surface water in the Awash Basin in Ethiopia and its implications for the overall REACH goals (improving water security)," Seifu said. "During this time I also intend to attend a few seminars and workshops – one of which, for example, is the AfOx-African Academy of Sciences Affiliates convention entitled 'Interdisciplinary Research towards tackling SDG (Sustainable Development Goals) targets in Africa'.
"I am having incredible time at the St Edmund Hall. I am very thankful for AfOx and the St Edmund Hall administration for sponsoring and hosting my stay in Oxford."