Alumni celebrate Professor Keith Gull's tenure as Principal
9 Jul 2018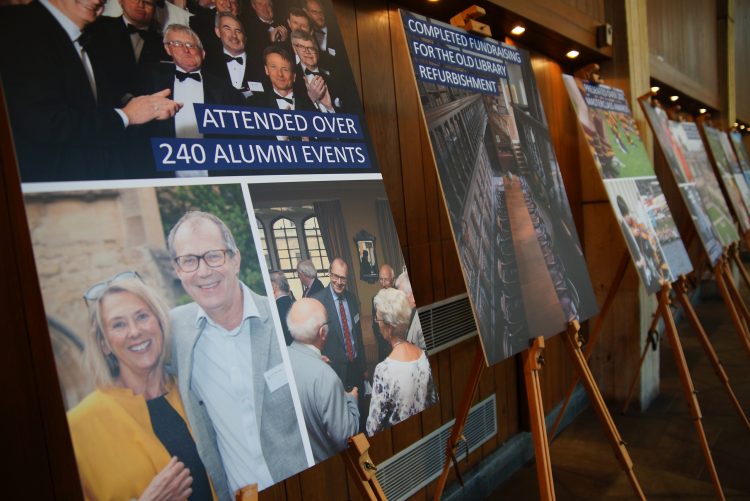 Last Saturday we welcomed over 100 alumni and guests to the Hall. Aularians gathered to thank Principal Professor Keith Gull and Dr Dianne Gull for all their hard work and accomplishments over the past nine years.
Several boards around the room highlighted a few of the key achievements during Keith's Principalship. Keith has overseen a great variety of initiatives, events, and projects that reflect his passion for developing the Hall. These include the redevelopment of the Front Quad, presenting over 200 Masterclass Awards (which support students by funding advanced coaching in their extra-curricular interests) and visiting thousands of alumni throughout the world at over 250 events.
Speeches were heard from Aularians Sir Jon Shortridge (1966, PPE) and Dr Faith Wainwright MBE (1980, Engineering Science) who have both worked closely with Keith and Dianne in the past. After talking about his experiences of serving with Keith on various committees at the Hall, Jon unveiled Keith's portrait to the Aularian community, alongside a poem written by Darrell Barnes (1963, Modern Languages).
We were also fortunate to hear from a variety of talented Hall musicians, including harpist Rachel Carver (2015, History), pianist Keyron Hickman-Lewis (2011, Earth Sciences) and cellist Eve Hopkins (2012, Molecular and Cellular Biochemistry).
This was a special occasion for everyone at the Hall as we say goodbye to Keith and Dianne in September. Keith has made a huge impact on many students and alumni during his time at the College and the quotes below really show this.
"I am extremely fortunate to have been a student at the Hall while Keith was Principal. During my year as MCR President, I experienced first-hand how dedicated and passionate Keith was about growing and developing the MCR community. Keith created a community that embodies the Hall Spirit and that spirit will remain with me and guide me for the rest of my life. For that, I am truly grateful." Current student Pip Coore (2014, MSt Legal Research and DPhil Law)
"Keith's work in his department at the University is, I understand, involved in tackling the problem of 'human sleeping sickness'. While this is a serious problem in Africa, there has been no risk of it in Teddy Hall under his Principalship! He has poured prodigious energy and enthusiasm into every aspect of college life. The Hall was always a good place to be, but never better than now. Thank you, Keith." Alumnus Michael Cansdale (1956, Jurisprudence)
The afternoon was a great celebration of Keith and Dianne's enormous contribution to the Hall.
Thanks to Vance Tan for the photograph
Other News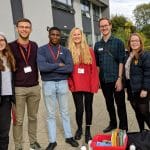 St Edmund Hall Roadshow 2019
This year's St Edmund Hall Roadshow, our annual trip to secondary schools, saw the Outreach team visit over 400 students in Leicestershire, Peterborough and Rutland.
16 Oct 2019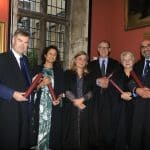 Five Honorary Fellows Sworn in at St Edmund Hall
The College's Governing Body swore in five new Honorary Fellows of St Edmund Hall on Thursday 10 October.
16 Oct 2019