A Conversation about Bipolar Disorder: podcast now available online
21 May 2018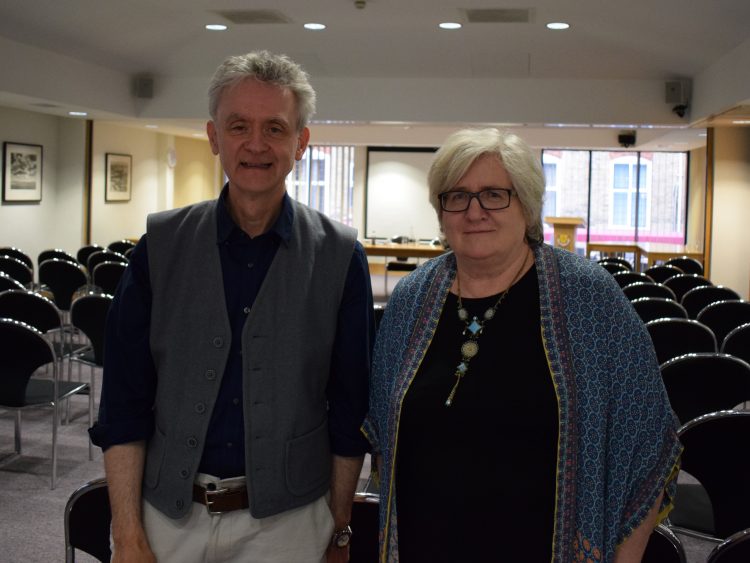 Professor Lucy Newlyn, Emeritus Fellow and tutor in English at St Edmund Hall from 1984 to 2016, returned to the College recently to take part in a conversation with Dr Richard Lawes (Lecturer in English at Regent's Park College and Consultant Psychiatrist to the University's Counselling Service Service) about bipolar disorder. This followed the publication, earlier this year, of Lucy's 15-year memoir, Diary of a Bipolar Explorer.
The conversation was recorded, and is now available to listen to online. After an introduction by Rev. Will Donaldson, our College Chaplain, Richard asked Lucy questions about writing the book and her experiences of bipolar disorder. The conversation is a very frank and brave account of the lows and highs of being bipolar, which Lucy describes with a remarkable vividness. Lucy explained how she felt she could not have written the book while still in post as a tutor, mainly because of the stigma attached to mental illness. She now hopes to raise awareness and improve understanding through her book. All profits from sales are being donated to the charity MIND.
The conversation opened with a powerful and extremely moving account of the events that led to Lucy falling into a psychotic state and being sectioned. While this was clearly an extremely traumatic and terrifying experience, Lucy does a remarkable job of analysing and describing it now, and tracing the circumstances that precipitated things. She also described other persecutory delusions, managing to give the audience an insight into what she believed at the time, balanced with a sense of humour, now that she can look back at them.
By contrast, the discussion also focussed on the highs, which Lucy describes as a "lava of energy" where she feels she can just write and write. Although the poetry written in these hyper-manic states is often (in her opinion) not good, it captures feelings and gives her raw material that she subsequently crafts into something better. The discussion also gave a good sense of the more everyday side of bipolar disorder – the vast majority of the time that is experienced at neither extreme of the spectrum of hymomania and depression.
The event was well-attended – with many representatives from Oxford's mental health network, current and former Hall students, Fellows, others from across the University and members of the wider public.
In the autumn, Lucy will begin some new work in association with the mental health charity SANE, getting out into schools to give writing workshops. She hopes in this way to help teenagers with the articulation of moods and mood-disorders. She will also be giving talks about her work at the Wantage Literary Festival in October, and to the Winchester Literary Society in 2019. You can hear her being interviewed on the radio by her former student, Aularian Jude Cowan Montague, online here.
Diary of a Bipolar Explorer can be purchased at Amazon, or from Blackwell's and WHSmith.