Dom Lukauskis chosen to take part in 2018 Laidlaw Research and Leadership Programme
22 Mar 2018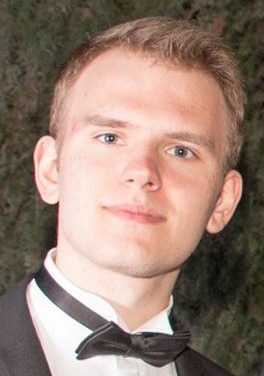 Third-year undergraduate Dom Lukauskis (2015, Biochemistry) has been selected as one of this year's cohort of 25 Laidlaw Scholars. The Laidlaw Scholars Undergraduate Research & Leadership Programme was launched at the University of Oxford in 2016, and aims to equip undergraduate students with research and leadership skills to help them pursue their academic and professional aspirations beyond their current course of study.
Dom heard about the opportunity in a Careers Service email, and then attended a project presentation given by 2017's Laidlaw Scholars. "I enjoyed talking to people there so I thought I would apply," he explained. "I had an interest in Computational Chemistry, so I looked around for good groups in Europe that excelled in that area. This way I stumbled upon Professor Bert de Groot's group at the Max Planck Institute for Biophysical Chemistry in Gottingen, Germany. The Laidlaw Scholarship gives a generous travel grant along with the bursary payment, so I thought I would take advantage of that by going abroad and interning at a world-leading institution outside the UK."
Around half of this year's Scholars are going abroad, for a wide range of projects lasting between eight and ten weeks. They are studying a broad range of different subjects, and undergraduates on any degree course and in any year of study are eligible to apply for the programme.
"After (nervously) sending a speculative email about getting involved with the group's research, Bert and I had a Skype call and later decided on a research proposal," said Dom. "My project will look at computer simulations of proteins, investigating how well we can model and predict the strength of interaction between two proteins. Possible applications of the project could be the rational design of new proteins, like modifying antibodies targeted at proteins found on the surface of pathogenic bacteria or viruses, aiding our immune system in the case of infection." Dom will travel to Germany at the end of June.
As part of the programme, all Scholars also have to attend a certified leadership and management course, which took place last week. "We had a mixture of lectures, prominent guest speakers and practice presentations of our own projects," said Dom. "I found all this incredibly useful, especially in a context of talking about leadership in a potential job interview, as well as gaining experience in public speaking. As part of gaining the certificate we also have to complete assignments over the next year.
"I think the Laidlaw Scholarship is any Oxford undergraduate's best opportunity of getting involved in research. With its very generous bursary, travel and lab expenses grants you don't have to worry about the monetary cost of choosing to do a research internship, instead of a commercial one."
Students who are interested in finding out more about the programme should look out for this year's poster presentation, in which Dom will be taking part along with the other Laidlaw Scholars. It will take place on Friday 19 October (2nd Week of Michaelmas term) and is open to prospective scholars in the afternoon. The location is yet to be confirmed but the event will be advertised nearer the time by the Careers Service.
Related News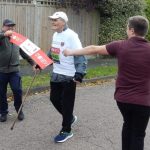 David Picksley walks the London Marathon!
David successfully finished the marathon in 9202nd place (out of 11206 participants) and 2nd place in the 80+ category, in a time of 7 hours and 28 minutes.
13 Oct 2021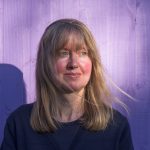 Hall alumna discusses her book The Suicide Prevention Pocket Guidebook
On Thursday 7 October alumna and author Joy Hibbins (1981, French and German) gave the fifth talk in the Hall's online event series, Aularian Authors.
8 Oct 2021