Geddes Student Journalism Prize winners announced for 2018
13 Mar 2018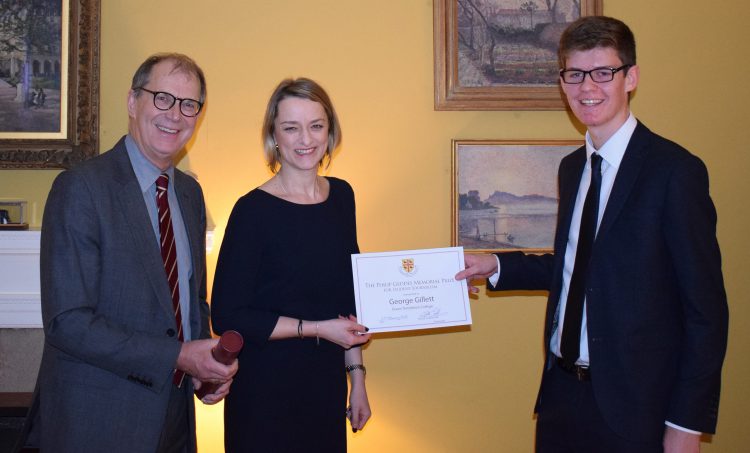 This year's three Geddes Trust prizes were awarded last week to three very talented Oxford student journalists. Laura Kuenssberg, political editor of BBC News, made the presentations at St Edmund Hall, before giving this year's Geddes Lecture in the Examination Schools. George Gillett (Green Templeton College) won the main Philip Geddes Prize, worth £2500, for the most promising student journalist at the University of Oxford.
George is in his final year studying medicine and was praised by the judges for "his incredibly well-researched, detailed, pithily-written, and wisely chosen selection of stories." The articles he submitted included a series of interviews with Syrian medical students about life during the civil war for the Student British Medical Journal (in print only); articles for the Spectator on the Charlie Gard case and the licensing of a controversial new drug used to treat hypoactive sexual desire disorder; an opinion piece for the US publication Salon on the troubling legacy of Mother Theresa; an interview with Sarah Wollaston MP, chair of parliament's Health Select Committee, for the Student British Medical Journal; and a piece in the New Statesman on some of the evidence surrounding alternative medicine and its related ethical issues.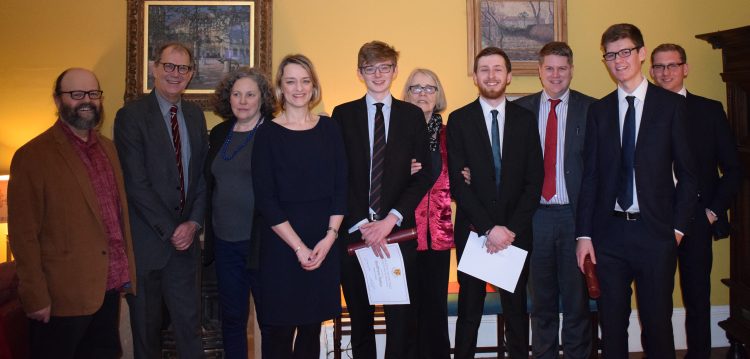 Applicants must also provide details of the project they will undertake using the prize money, as part of their entry. "My project will take me to ABC News in New York," said George, "where I join the organisation's medical journalism unit to research stories, develop news items and prepare scripts for broadcast. Having never encountered broadcast journalism before, I am hugely grateful to the Geddes Trust for this opportunity and am very much looking forward to developing my journalistic skills at one of the world's most renowned television networks. I've tried to pursue my interest in both medicine and journalism throughout my degree, and am eager to integrate these areas during this exciting placement."
Greg Ritchie, a second-year History and Politics student at Wadham College, was awarded the Ronnie Payne Prize for Foreign Reporting (£2000), and the articles he submitted included an investigation which revealed that the Oxford Union was ignoring its own financial rules; and a data analysis piece on Oxford departments' heavy reliance on EU funding.
Greg's project was described by one of the judges as "a marmalade dropper"! "I plan to use the money to investigate the supposed 'vampire craze' in Malawi last year," explained Greg. "Over 15 alleged bloodsuckers were killed, and hundreds of vigilante mob members arrested. It was so bad that the UN pulled out its workers, while the UK still advises travellers against going into the worst-hit areas." He plans to travel around the south of the country, interviewing locals as well as specialist academics and government officials on their views on vampires, witchcraft, and the hysteria of last year.
Matt Roller (Exeter College), who is in his second year studying PPE, won the Clive Taylor Prize for sports journalism, worth £1000. His portfolio was a range of pieces he had written for Cherwell, the student paper, and for Last Word on Cricket, a small site that he helps run. They included interviews with former England batsman Chris Tavaréand Alastair Cook's personal batting coach; reports on triathlon and rugby union Varsities; and two features on the decline of both the FA Youth Cup and the Champion County Match. "With the money, I plan to report on county cricket this coming summer," said Matt. "I received ECB accreditation last year, so will be spending most of the long vac in press boxes up and down the country." Matt's interest in cricket is particularly appropriate given that it was also the passion of Clive Taylor, the distinguished cricket writer in whose memory the prize is named.
The Geddes Prize has been awarded since 1984, to encourage promising student journalists and in tribute to Philip Geddes, an alumnus of St Edmund Hall who was killed by an IRA bomb in London in 1983 while working as a young journalist for the Daily Express. The Ronnie Payne Prize for Foreign Reporting was established by Ronnie's widow, Celia Haddon, and honours his work as an acclaimed foreign correspondent and war reporter.