Geddes Student Journalism Prize winners announced for 2019
6 Mar 2019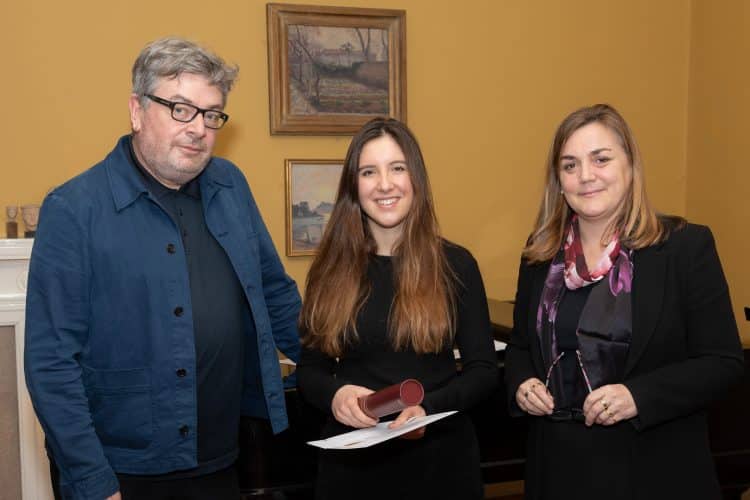 This year's three Geddes Trust prizes were awarded last week to three very talented Oxford student journalists. David Aaronovitch, a journalist, broadcaster and writer, made the presentations at St Edmund Hall, before giving this year's Geddes Lecture in the Examination Schools. Emily Lawford (St Hilda's College) won the main Philip Geddes Prize, worth £2500, for the most promising student journalist at the University of Oxford.
Emily is in her final year studying English. The articles she submitted included an interview with a Palestinian-American activist who creates clothing and holds exhibitions to raise awareness against sexual harassment in the West Bank, an article covering Oxford's Middle East Faculty's response to the assault allegations against Professor Tariq Ramadan, an article noting the disparity in suspension numbers between private and state-educated students, a Telegraph news story about a missing pet snake, and a review from the Edinburgh Fringe.
Applicants must also provide details of the project they will undertake using the prize money, as part of their entry. Emily's plans to go back to Palestine, where she worked for a news network last summer, and write a feature piece interviewing a few of the thousands of Palestinians who travel from the West Bank into Israel at 4-6am every morning to go to work there.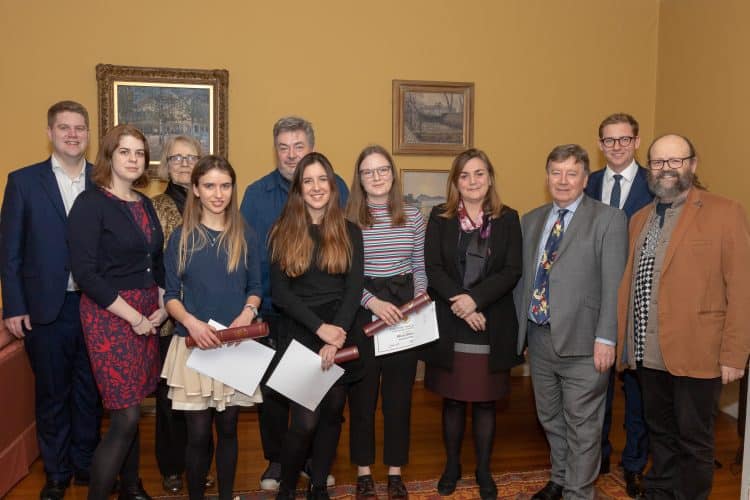 Olivia Cherry, a second-year English student at Corpus Christi College, was awarded the Ronnie Payne Prize for Foreign Reporting (£2000), and the articles she submitted included an interview with Wang Dan, a Chinese dissident who was one of the key orchestrators of the Tiananmen protests, an investigation into the use of fixed-term academic contracts at Oxford, an investigation into female (and feminist) academics at Oxford which included an interview with first female member of the Oxford Union, a look at colleges' influence on the housing developments in and around Oxford, and an opinion piece on why young people are reluctant Remainers.
Describing her project, Olivia said "I intend to investigate the controversy surrounding the EU's recent Copyright Directive, which has split the creative community in two, with some allying themselves with the likes of Google and Facebook, arguing that the sharing of intellectual property is necessary for their work, while others are campaigning to take back distributive control from larger companies and give it back to the individual artists. I will be hopefully going to Europe to interview and work with some of the activists on both sides which are scattered across the continent from Spain to Poland."
Alice Bruce (Mansfield College), who is in her second year studying History and Politics, won the Clive Taylor Prize for sports journalism, worth £2000. Her portfolio was a range of pieces she had written as Sports Editor at Cherwell, the student paper. This included a piece on the This Girl Can campaign which explored some female students' relationships with sport and how sport can progress. Also included was a report from Twickenham on the Men's Rugby Varsity Match, a Blues Netball report and an analysis of the England Rugby team in the Autumn international series.
With the prize money Alice intends to create a magazine all about women's sport which will explore a wide range of topics on this theme including interviews with Oxford and national sportswomen, women's body image related to exercise, women's sports nutrition and health, women's sport in the media and popular culture, how both girls and older women have interacted with sport in different ways through their lives and issues of female confidence and dealing with the mental pressures of sporting competition. She hopes to bring together a group of writers, designers and illustrators in Oxford for this project and will be looking for submissions and contributions over next term.
The Geddes Prize has been awarded since 1984, to encourage promising student journalists and in tribute to Philip Geddes, an alumnus of St Edmund Hall who was killed by an IRA bomb in London in 1983 while working as a young journalist for the Daily Express. The Ronnie Payne Prize for Foreign Reporting was established by Ronnie's widow, Celia Haddon, and honours his work as an acclaimed foreign correspondent and war reporter. The Clive Taylor prize is given in memory of Clive Taylor, the distinguished cricket writer.
Related News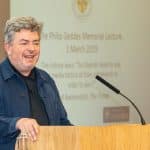 2019 Geddes Lecture by David Aaronovitch now online
You can watch this year's journalism lecture, entitled 'Do liberals need to use the media tactics of their opponents in order to win?', on our YouTube channel
20 Apr 2019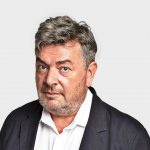 David Aaronovitch to give 2019 Geddes Journalism Lecture
All welcome to attend this free public lecture on Friday 1 March at 5:30pm
1 Feb 2019