Hall Remembers Justin Gosling
2 Nov 2022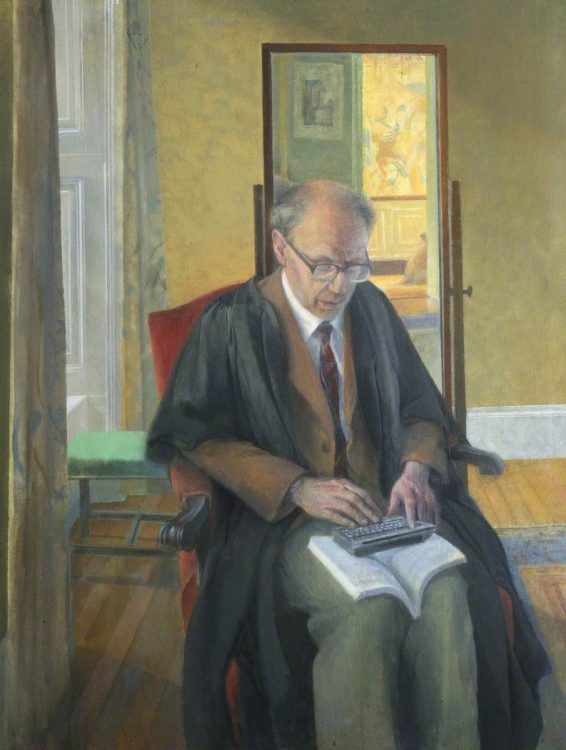 It is with very great sadness that St Edmund Hall announces the passing of Mr Justin Gosling, former Principal (1982-1996), and Honorary Fellow of St Edmund Hall, who died on Monday 31 October 2022.
Justin Gosling went to school at Ampleforth College and later won an exhibition in Classics at Wadham College where he got a first in Mods and a first in Greats (1953). He got a BPhil in Philosophy in 1955 and was appointed to a Fereday Junior Research Fellowship at St John's College (1955-1958).
He was Lecturer in Philosophy at Wadham and Pembroke Colleges 1958-1960, and then became Tutor in Philosophy at St Edmund Hall until he was appointed Principal in 1982.
More will be said about Justin's achievements below, but in addition to this, he made a great contribution to the running of the College, so that he became a familiar face to many Teddy Hall students over his long and distinguished time here.
Professor Baroness Willis, Principal of St Edmund Hall writes: "Justin was a brilliant, dedicated, and sensitive leader of this college. Even after retiring, he continued to serve the college in many different ways from teaching to supporting alumni events and his former students. He brought extraordinary scholarship, wisdom, and enthusiasm to everything that he was involved with."
Mr Gosling had a Visiting Professorship at Macalester College in 1964, a Visiting Fellowship at the Research Institute of Social Studies, Canberra, 1970, and a Visiting Professorship at the University of Minnesota and Macalester College in 1986.
He has been Secretary of the Governing Body and Senior Tutor, and was elected Senior Proctor for the Year 1977-1978. He was Pro-Vice-Chancellor from 1989-1995, Chairman of the Conference of Colleges 1987-1989, and served on various University committees.
As a mark of respect, the College flag will be flown at half-mast.
Geoffery Bourne-Taylor (Bursar 1988-2007), who worked with Justin has written the following tribute:
Frozen in stone in the Front Quad and commissioned by me as possibly the last working gargoyle in Oxford, Justin Gosling had agreed that his likeness be installed opposite the Buttery as a retort to similar performances he and his family had witnessed outside the Buttery, opposite the Lodgings. When he saw the potential blackmail photographs he had posed for, he wrote:
'He who sews mischief
Is a born tailor
But he who waters the summer flowers
Is just in all things.'
It amused him, even more, to hear tour guides claiming to their innocent audiences that the carving represented Teddy Hall alumnus Robin Day – I think it was the horn-rimmed specs that were the link.  And it is to his seemingly endless dry humour that I wish to pay tribute in this short retrospect of over 30 years friendship with Justin.  I have always been convinced that Maurice Bowra as Warden of his college, Wadham , had something to do with it!
At interview, I had responded to one of his questions: 'Up to a point Lord Copper, up to a point.' I discovered later that he and Margaret had been friends with Evelyn Waugh: I like to think that is what clinched my appointment.
His intellect was the size of Europe and one could just see his satisfaction as he would halt recalcitrant dons in their tracks at Governing Body meetings.  I was not immune; his enigmatic, 'Geoffrey, we just hide our ignorance better than you do!'  Or, his squib (to a colleague) in the margin of a philosophy student's essay: 'You have a duty to enjoy reading this'.
We are warmly reminded of Justin whenever we study David Tindall's gentle portrait of him, in his study, mastering the complexity of the Psion handheld computer that tickled him; family dog in the doorway, equally puzzled.  As his son, Sam, mentioned, 'My father…. would have regarded with wry amusement that he died on Halloween'.
In the days before fundraising, we sat with a potential donor, who, reaching for his wallet, asked, "Do you have a building fund?"  "No," replied Justin, truthfully, before I could kick him under the table; but one couldn't help loving him for it.
Those who passed through his care during probably fifty years of his philosophy tuition at the Hall will remember him as probably one of the last of the old school dons: laser sharp, logical to the point of exasperation, laconic. But above all, sensitive, open minded and completely without prejudice.