Language Arts: books, comics, and language learning
16 May 2023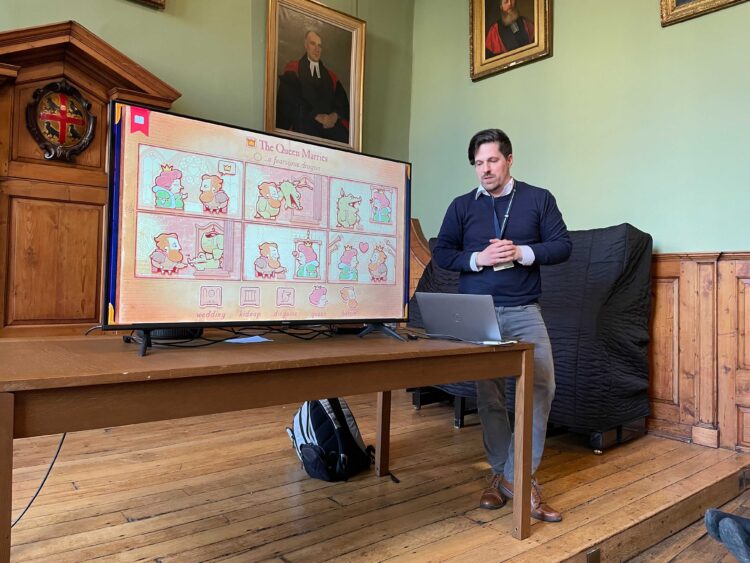 On Friday 5 May 2023, St Edmund Hall's Centre for the Creative Brain hosted their event 'Language Arts: books, comics, and language learning'. This event featured a talk by Sean McCarron, a DPhil student and experienced illustrator at the Department of Experimental Psychology whose research focuses on print exposure (how much you read), bilingual proficiency, reading comprehension, and vocabulary knowledge—in particular, the language of books.
The talk began with Sean introducing the inspirations behind his research, including his childhood experience of the 1995 Quebec referendum on independence from Canada, his love of reading (both novels and comics), and his work as a cartoonist and illustrator. He then gave us an insight into his DPhil research, including the development of a new test of print exposure, and studies into how reading and books can influence the development of second languages. Finally, Sean explained how reading for enjoyment, be it fiction, non-fiction, or comics, can help with language learning. The audience were invited to play the videogame "Storyteller" in which we were tasked with solving puzzles to build stories (featuring kings and queens, love, poison, and monsters)! We got to experience first-hand how emotions are created through storytelling, and how these emotions can foster understanding of a language.
All Centre for the Creative Brain Events are free and open to all. The Centre for the Creative Brain is generously endorsed by St Edmund Hall, University of Oxford.