MCR 50th Anniversary Grant Report: Ritwika Sengupta
26 Mar 2018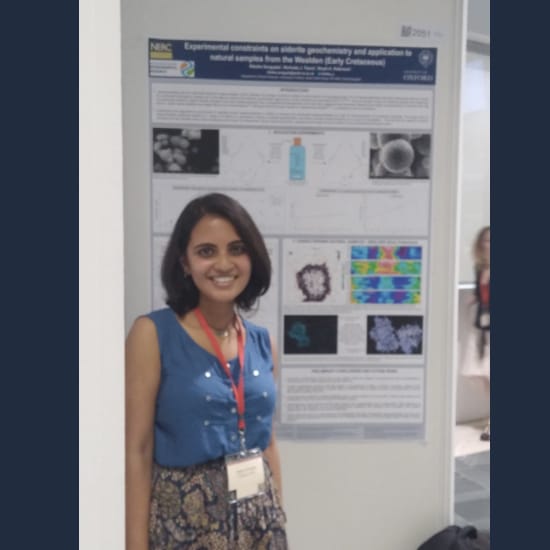 The MCR (Middle Common Room, our postgraduate student body) 50th Anniversary Grants are designed to support students by funding academic expenses such as additional courses, skills training or language classes; books; or travel expenses to conferences – similar to the expenses that are also funded via the College Grant system. College Grants enable postgraduates to claim up to £350 each per year, and students can apply for a 50th Anniversary Grant if they have already exhausted their College Grant allowance. The 50th Anniversary Grants are funded by contributions from MCR students. Below, Ritwika Sengupta (2015, DPhil in Earth Sciences – NERC Environmental DTP) describes how she made use of the grant.
Last summer I attended two conferences – Goldschmidt in Paris and the Cretaceous Symposium in Vienna, with the help of the MCR 50th Anniversary Grant. I presented a poster at both conferences and also attended a range of talks. It was an incredibly helpful academic experience both for my project and for increasing my general knowledge in my field.
At Goldschmidt, the talks were focused on geochemistry, and the range of talks provided a good background for one half of my project, as well as giving an insight into applications of the kind of geochemistry in which I am interested, to other time periods in the geological record. It was also helpful to meet people during the poster sessions and network with professors and early career researchers. My poster was really well attended, and I am hoping to build collaborations with a few people I met during it. It was also interesting to meet other students working in my field, as staying in academia would mean eventually collaborating with them.
For the second conference – Cretaceous Symposium – I also presented a poster, which was helpful in meeting people who work in the same time period as me. I also got interest from other PhD students, which is very useful for the future. Furthermore, some of the PhD students were extremely helpful when it came to techniques to use to collect data (such as clumped isotopes), and we had useful discussions on what kind of things work well with my samples. The talks were also more geology-focused, and it was a great way to gain an overall idea about the current research going on during the whole of the Cretaceous time period. It has definitely allowed me to put my project into perspective and to come up with lots of ideas on how to progress. It has also put my research in the context of other work going on, and allowed me to introduce myself to others who would be interested in following my work.
Both conferences have allowed me to move forward with my project, amalgamate ideas and data and to move on to next steps before confirmation of status. I am now keen to keep this momentum going, and hopefully have a few data sets ready by the next set of conferences, in order to be able to apply for talks.
Current Teddy Hall postgraduates can find more information about applying for an MCR 50th Anniversary Grant on the MCR website.