Volunteers needed for Medieval Mystery Cycle 2020
13 Nov 2019
Would you like to take part in a medieval dramatic experiment? Directors, actors, costume and prop makers and musicians wanted!
Following on from the success of last year (www.seh.ox.ac.uk/mystery-cycle), the Oxford Medieval Mystery Cycle Plays return to St Edmund Hall on 25 April 2020 next year. Led by Professor Henrike Lähnemann, St Edmund Hall Fellow and Professor of Medieval German Literature and Linguistics, and Professor Lesley Smith, Fellow and Tutor in Politics and Senior Tutor at Harris Manchester College, the Mystery Plays were a very popular form of drama in the Middle Ages – with different groups performing short plays telling stories from the Bible. This year, Henrike and Lesley are seeking to recruit groups from Oxford and elsewhere to take on individual plays. All are very welcome to get involved.
Please find below more information and how you apply from Henrike and Lesley:
We're proposing the same list of plays as last year (from a variety of sources), which give an outline of the whole biblical story. But, as happened last year, we are open to groups bringing plays from other cycles or in other languages — or, as last year's Last Judgement, writing one themselves (though I was sure Prince Harry was going to turn out to be the Antichrist, not the Messiah!) Creativity definitely encouraged: last year's modern dress Annunciation and the re-worked manuscript projections of Noah were among the highlights!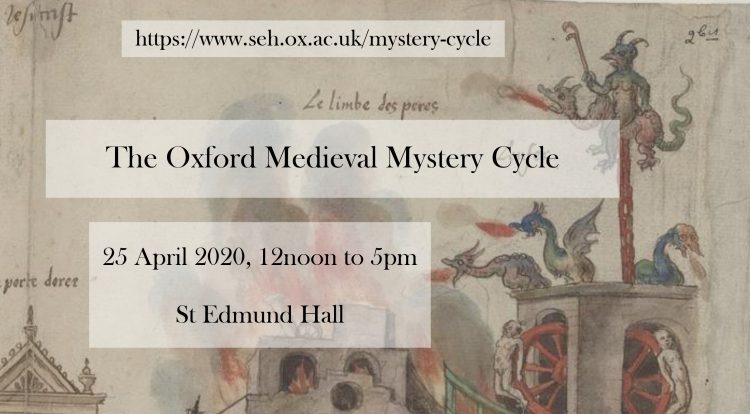 This is the list of plays we're suggesting:
Creation Fall of Adam and Eve (York): English Medievalists, dir. Dan Wakelin
Killing of Abel (Towneley): University of Bristol
Noah (Towneley): English students, University of Oxford
Abraham (Brome MS)
Annunciation (Towneley): double bill in Middle Dutch, dir. Godelinde Perk, and Medieval Italian (Boccaccio), dir. Lachlan Hughes
Visitation (The Salutation of Elizabeth) (Towneley) The Visitation is very short, and might be added to The Annunciation.
2nd Shepherds' (Towneley)
Magi (Towneley)
Herod the Great (Towneley)
Mary Magdalen (Mystère de la Passion): French Medievalists, dir. David Wiles
Lazarus (Towneley)
Pilate's Wife (York)
Crucifixion (York)): St Peter's Ensemble (QMUL), dir. Eoin Bentick
Harrowing of Hell (The Deliverance of Souls) (Towneley): Harris Manchester College Players
Resurrection (York) (Innsbruck Easter Play): Medieval Germanists, dir. Henrike Lähnemann
Judgement (Towneley): Teddy Hall Drama Society
These require a very varied number of actors – from 2 to about 10 – and a wide variety of props and ingenuity in setting. The text for each play is on our website: www.seh.ox.ac.uk/mystery-cycle.
We're using the plays in modern spelling as found in:
The Wakefield Mystery Plays, ed. Martial Rose (London, 1961)
York Mystery Plays. A Selection in Modern Spelling, ed. R. Beadle and P. King, World's Classics (Oxford, 1984)

Everyman and Medieval Miracle Plays, ed. A. C. Cawley, Everyman's University Library (London, 1956; repr. 1974)
These editions have textual and production notes.
The play date is the Saturday before 1st week in Trinity term: 25th April. Last year, God began Creation at noon, and we ran through till around 5pm, outdoors (though we can provide indoor space for those who might need it), moving around the various quads and spaces of the college and the former church of St Peter in the East, now the college library (map of college here).
If you'd like to take on a play, please contact:
Last year we had around 100 performers and 300 audience — even on a day which threatened (though never produced) rain… and the sun came out for the Resurrection. The college bar will be open for tea, coffee and buns. Please join in, and make this year even more memorable than the last.
Other News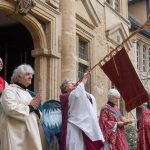 Oxford Medieval Mystery Cycle takes over Teddy Hall!
St Edmund Hall became a stage for a whole host of angels and devils, as ten groups acted out a humorous and compelling series of biblical stories.
1 May 2019