Pontigny Choir Tour 2018
2 Aug 2018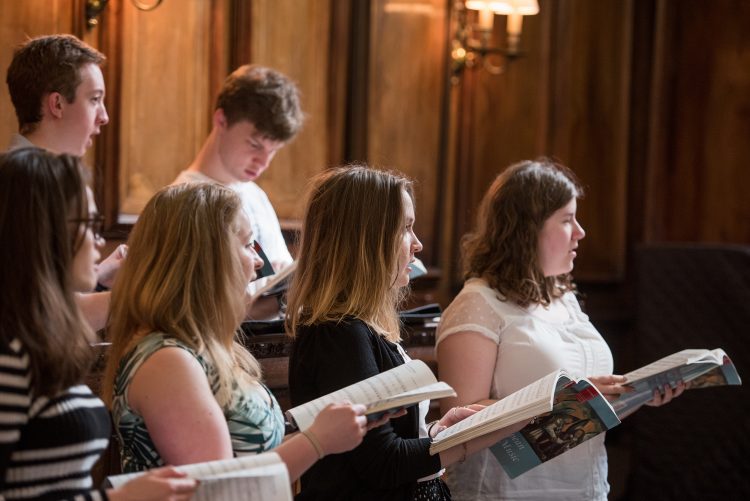 Both current and former members of the Teddy Hall community are warmly invited to join the Teddy Hall choir on their tour to France from 11-15 September 2018, as the choir performs in locations connected to the Hall's history.
The College has strong links with Pontigny: the Hall's namesake, St Edmund of Abingdon, has been buried at Pontigny Abbey since his death circa 1240. The College choir has previously toured to this town in the Burgundian countryside, in 2013, 2014 and 2016, and the fourth iteration will take place in just over a month's time, led by Christopher Bucknall, St Edmund Hall's Director of Music.
The choir will travel from London to Pontigny via Paris, performing at the Collège des Bernardins in Paris and at Pontigny Abbey. The programme includes compline and vespers services at the Abbey, and a series of concerts for the Collège's Journée du patrimoine. Choir members will also have the opportunity to visit the surrounding countryside and take part in a wine tasting from local vineyards.
All performances are open to the public, and the choir would be delighted to see some of the Teddy Hall community. If you are interested in attending, or if you would like any further information about the tour, please contact Christopher Bucknall.
The tour has been made possible thanks to the generous support of Justin Stead (1971, Botany) and other Aularian gifts.
The choir will be performing on the following dates:
Pontigny Abbey: Tuesday 11 September, 9pm; Wednesday 12 September, 8pm; Friday 14 September, 6pm.
Collège des Bernardins, Paris: Saturday 15 September, 2:30pm, 3:30pm and 4:30pm.