SEH Fellowship Lunchtime Lectures at the Hall
7 Dec 2020
This Michaelmas Term, St Edmund Hall established a new online lunchtime lecture series which aimed to highlight the incredible depth and breadth of research across the Teddy Hall Fellowship. These talks have been very popular as students, fellows, lecturers, staff and alumni have tuned in each week.
In weeks 2, 4, 6 and 8 of this term, one of our Fellows gave a virtual lunchtime seminar around a topic relating to their own research, chaired by the Principal, Professor Katherine J. Willis. These talks aimed to be accessible to all in the Hall community past and present, and give a glimpse into of the type of research that is going on within our community of academics.
We welcomed lectures from Professor Andrew Kahn Tutorial Fellow at the Hall since 1993 and is a Professor of Russian Literature who spoke on 'Russia's First Dangerous Book: the Story of Alexander Radishchev's Journey from St Petersburg to Moscow (1790)'. This was followed by Dr Joanna Bell on 'Judicial Review under Review' which explored the UK government's independent review of administrative law and why it matters. Professor Lars Jansen talked about 'Genes, genetics and epigenetics' which dived into the question of what are genes and present some provocative exceptions about how and what we pass on in our genes to our children. The last lecture was given by Dr Luke Parry on 'Worms: a half a billion-year history'. In this talk Luke will introduce the diversity of annelid worms that live in the modern ocean and introduce recent discoveries from his research that showcase where their staggering diversity came from, particularly during their early history over half a billion years ago.
Most of these lectures are available to watch on the Hall's YouTube Channel.
This online lecture series will return for Hilary 2021.
Related News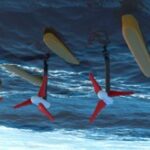 St Edmund Hall academics to lead tidal energy project for carbon emission reduction and energy secur…
30 Jun 2023