St Edmund Hall hosts new seminar on environmental sustainability
27 Feb 2023
Where are the innovations in renewable energy? That question was explored at St Edmund Hall's inaugural public seminar series on 'Conversations in Environmental Sustainability: beyond greenwashing' on Friday 10 February 2023. The termly seminar brings together leading thinkers and decision-makers from academia, business, government and NGOs to look beyond greenwashing. Each term they will examine a specific issue related to environmental sustainability, exploring how to effectively marry environmental, social and governance (ESG) goals with financial returns, innovation and other business imperatives.
Over 100 people attended the first seminar, kindly sponsored by Ninety One, to hear a panel of experts led by the Hall's Principal and Oxford Professor of Biodiversity Professor Baroness (Kathy) Willis, CBE. Each panellist presented their viewpoint on the key question with David Bryon (CFO, First Light Fusion) speaking about nuclear fusion, Carlos Monreal (CEO, Plastic Energy Ltd) on plastic energy, William Rowe (Founder & CEO, Octopus Hydrogen) on hydrogen energy and Professor Richard Willden (St Edmund Hall Fellow and Department of Engineering, Oxford) on tidal and wind energy.  The speakers explained how each technology works, and the positives and negatives to its development and implementation. Afterwards the panel received a wide variety of questions from the audience. This was followed by a drinks reception and a private dinner in which further debate, analysis and forging of connections between different sectors continued to help us understand where the future of renewable energy lies.
Since 2019, St Edmund Hall has been committed to being recognised as one of the greenest and most environmentally sustainable colleges in Oxford and the establishment of this new sustainability seminar is also critical to this mission. The Hall aims to facilitate a forum for considered honest, solution-based responses to the many global environmental sustainability challenges as well as improving our own environmental impact.
Related News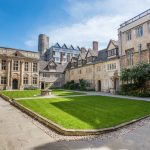 Environmental Sustainability Strategy launched
St Edmund Hall is committed to being recognised as one of Oxford's greenest and most environmentally sustainable colleges.
2 Nov 2022