Talks to mark anniversary of the White Rose trials – resistance in Nazi Germany
6 Feb 2018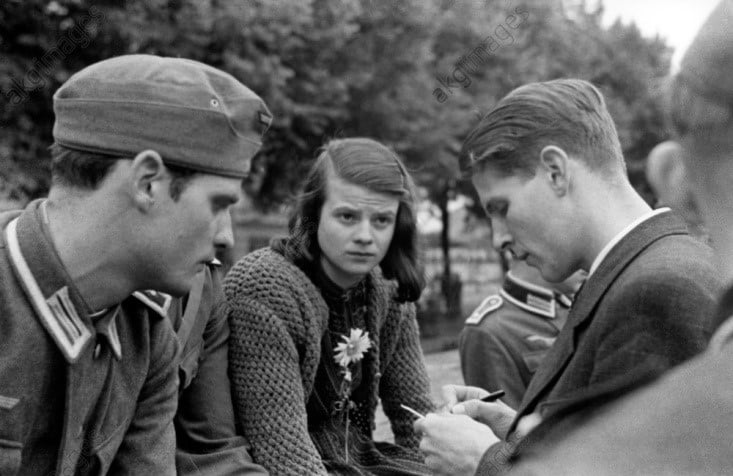 This month marks the 75th anniversary of the arrest of Hans and Sophie Scholl (18 February 1943), after they were caught spreading anti-Nazi leaflets in the University of Munich. Five days later they and a friend, Christoph Probst, were tried and executed on Hitler's orders. Adopting the name The White Rose, the Scholls and their student friends opposed National Socialism by circulating thousands of leaflets telling other Germans that they had a moral duty to resist Hitler. The last leaflet was smuggled out of Germany and reprinted with the title The Manifesto of the Students of Munich; millions of copies were dropped over Germany by the Allied forces.
Four speaker meetings in Oxford this month will explore different aspects of the White Rose legacy. These meetings take place at Grandpont House and begin at 7:45 pm. This Saturday, 10 February, Dr Alex Lloyd, our Lecturer in German, will give the first talk – about depictions of the White Rose in German film. There will also be a screening of Marc Rothemund's 2005 film Sophie Scholl – The Final Days at the Catholic Chaplaincy on Friday 16 February at 8pm with a short introduction and opportunity for questions/discussion.
The transcripts from the first White Rose trial show that Sophie had been compelled to oppose the Nazi regime by her Christian conscience. Her and her brother's heroism was inspired in part by the writings of John Henry Newman. Sophie Scholl may not be a household name in Britain, but she is a legend in Germany. Schools and streets are named after her; films have been made about her life. She was voted 'woman of the twentieth century' by readers of one German magazine, and a popular television series called Greatest Germans called her the greatest German woman of all time.
The second White Rose trial took place on 19 April: Alexander Schmorell, Willi Graf and Kurt Huber were condemned to death and ten of the other eleven were given prison sentences; Alexander Schmorell and Kurt Huber were guillotined on 13 July and Willi Graf on 12 October.
The programme of talks is as follows:
Saturday 10 February, Fourth Week
Dr Alexandra Lloyd, 'Hans and Sophie Scholl in Film'
Saturday 17 February, Fifth Week
Dr Paul Shrimpton, 'Hans and Sophie Scholl: from Hitler Youth leaders to the White Rose resistance'
Saturday 24 February, Sixth Week
Dr Paul Yowell, 'When do laws cease to bind? Arguments from the first White Rose interrogations and trial'
Trinity Term
Saturday 26 May, Fifth Week (starting at 10.30 am)
Jakob Knab, 'The White Rose resistance – the deep roots of defying Hitler'
Dr Alexandra Lloyd is a College Lecturer in German at Magdalen College and St Edmund Hall. She lectures in German language and literature; her main research interests are twentieth-century literature and film, particularly memories of childhood, war, and dictatorship. She is currently working on a history of children and childhood in German film.
Dr Paul Shrimpton has taught for over thirty years at Magdalen College School, Oxford. His research interests are on John Henry Newman and education, and he has published A Catholic Eton? Newman's Oratory School (2005) and The 'making of men': the Idea and reality of Newman's university in Oxford and Dublin (2014). His Conscience before conformity, a study of the cultural and religious background of the White Rose resistance, is due to be published in March 2018.
Dr Paul Yowell, Fellow and Tutor in Law at Oriel College, researches in public law and legal theory, with particular interests in the separation of powers, constitutional theory and human rights. A member of the Legal Philosophy in Oxford Research Programme, Dr Yowell is currently working on the Parliaments, Rule of Law and Human Rights research project.
Jakob Knab lives near Munich where he has taught as Studiendirektor for many years. Joint editor of Die Stärkeren im Geiste: Zum christlichen Wilderstand der Weissen Rose (2012), he has written a number of articles and essays on the White Rose, including research on Newman's influence on the group. He has recently published Luther und die Deutschen, 1517–2017. His biography on Hans Scholl will be published this autumn.
Related News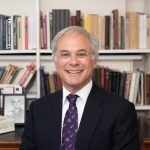 Andrew Kahn appointed Academic Editor of Electronic Enlightenment based at the Bodleian Library
20 Oct 2021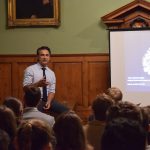 Insights from brain surgery on the conscious patient at Centre for the Creative Brain
18 Oct 2021