Teddy Hall alumni share their careers advice with current students
6 Nov 2018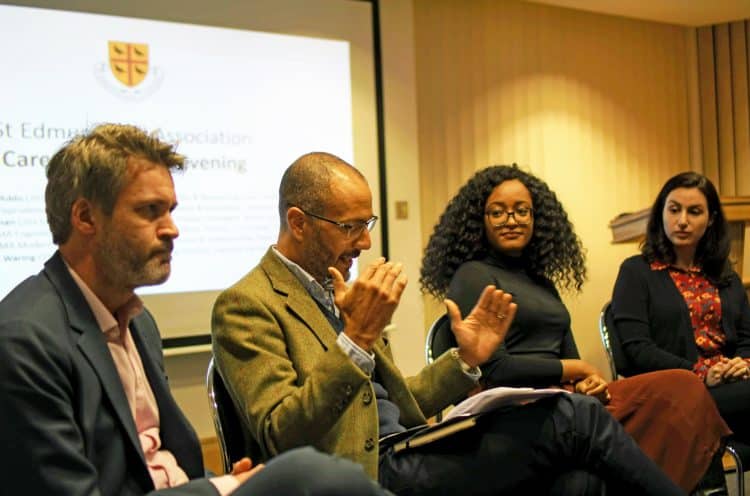 Last week six Aularians returned to the Hall to sit on a panel for the inaugural St Edmund Hall Association (SEHA) Careers Advisory Evening. The panel featured alumni from a broad range of career paths who matriculated in subjects ranging from Jurisprudence to Engineering Science.
Beatrice Addo (2014, MSc Education) – Policy Capability & Resourcing Lead, HMRC
Stuart Hopper (1987, MA Jurisprudence) – Director of Practice Development & Innovation, Dentons UK & Middle East LLP
Hillary Reitman (2013, MSc Higher Education) – Digital Product Strategist, White October
Paula Skokowski (1980, MA Engineering Science) – Chief Marketing Officer, Yubico; Co-Founder, Oxford Angel Fund
Ian Valvona (1994, MA Modern History & English) – Child Protection & Safeguarding, Dept for Education
David Waring (1987, MA Geography) – Managing Director, Evercore Partners
The conversations were led by the students in attendance and the panel session covered a broad range of topics, which included transitioning in to working life, career progression and building up work experience.
SEHA committee member Stuart Hopper led the event and explains below how the initiative came to be.
"The SEHA continues to look for ways to harness alumni experience to help current students with issues that are of interest to them. The President's Table concept – where the JCR and MCR invite people from their respective cohort to meet members of the SEHA over a Formal Hall dinner – is one way we are trying to improve this exchange. The idea of a more informal careers evening came out of a previous President's Table. Students wanted to move away from the old school 'this is what a lawyer/investment banker, etc. does…' towards a format that really looked at the nuts and bolts of how to get into – and then progress within – the world of work, including topics like how to move jobs/change occupation; what sorts of soft skills are required to grow careers; how to create and grow networks, etc. The recent careers evening was our first attempt to deliver this, drawing on the experiences of a broad-based panel containing a range of seniorities, experiences and insights."
If you would be interested in volunteering for a careers evening or getting involved, please contact kate.townsend@seh.ox.ac.uk.
Many thanks to all our speakers and particularly St Edmund Hall Association Committee Member Stuart Hopper for organising the evening. Many thanks also to the MCR President Ronnie Guthrie and JCR President Will Mason for their help promoting the event and making it possible.
"For the undergraduates in attendance, particular interest was paid to how to make the initial first move into the workplace, how best to approach someone for work experience, and the difference between the private and public sectors, whilst postgraduates focused their questions on how the panel had moved across different jobs throughout their career, and at what point it was right to make a change. As a postgraduate student myself who found employment before beginning my DPhil, I felt that it was important to still attend the evening, as it is always interesting to hear what experiences led to specific career paths, and if they could be applicable to me in the future."

Ronnie Guthrie (2016, Environmental Research) – MCR President
"Most careers events aimed at students are too specific about a particular industry, or they're looking to sell their company to students (and many times they are both). The SEHA Careers Advisory Evening was much broader, more practical and less formal than other careers events. It was simply six Aularians sat down in the Doctorow Hall having a lovely chat with us about all aspects of their career, their experience in the world of work and life beyond the Hall."

Will Mason (2016, PPE) – JCR President
Other News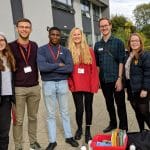 St Edmund Hall Roadshow 2019
This year's St Edmund Hall Roadshow, our annual trip to secondary schools, saw the Outreach team visit over 400 students in Leicestershire, Peterborough and Rutland.
16 Oct 2019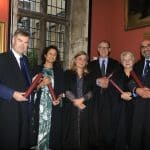 Five Honorary Fellows Sworn in at St Edmund Hall
The College's Governing Body swore in five new Honorary Fellows of St Edmund Hall on Thursday 10 October.
16 Oct 2019