The birth of the British Nation? 'Alone', 'People's War' and the mythical myths of 1940
4 Dec 2018
This year's Emden Lecture was delivered at St Edmund Hall by Professor David Edgerton, Hans Rausing Professor of the History of Science and Technology and Professor of Modern British History at King's College London, on 16 October. It is now available to watch online here. The annual history lecture is aimed at a non-specialist audience, and Professor Edgerton spoke about "The birth of the British Nation? 'Alone', 'People's War' and the mythical myths of 1940".
Professor Edgerton examined claims by historians that the phrase 'People's War' was in common usage, particularly by the end of 1940, and then argued against this view. He asserted that the mobilisation of the British war effort was dependent upon allies. While there was an increase in domestic food production, the UK still relied upon imports. Professor Edgerton made the case that it is crucial to understand the war as imperialist and international, and that this was also how it was perceived at the time. He explained some of the arguments made in his recent book, The Rise and Fall of the British Nation (2018, Allen Lane / Penguin).
Other News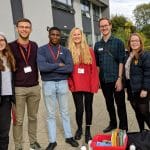 St Edmund Hall Roadshow 2019
This year's St Edmund Hall Roadshow, our annual trip to secondary schools, saw the Outreach team visit over 400 students in Leicestershire, Peterborough and Rutland.
16 Oct 2019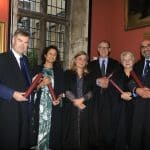 Five Honorary Fellows Sworn in at St Edmund Hall
The College's Governing Body swore in five new Honorary Fellows of St Edmund Hall on Thursday 10 October.
16 Oct 2019