The Origins of Inspiration: videos of talks now online
24 Dec 2018
On 23 November, St Edmund Hall's Centre for the Creative Brain organised another of its popular termly events, this time on the theme of 'the origins of inspiration'. We were delighted to welcome three very entertaining and informative speakers: two neuroscientists and an author, who drew on their own diverse experiences to share some fascinating perspectives and insights into the topic.
The first speaker, Linda Davies, was the College's inaugural Writer in Residence at the time, a role she held during Michaelmas term 2018. Linda is a successful writer of both financial thrillers and young adult fiction, and she explained how she came to write her first novel (after getting angry with her boss!) and how she has found inspiration for her subsequent books. She was followed by Dr Robin Carhart-Harris who shared some thoughts on his research into the effects of psychedelic drugs – something of a contrast to the long walks in the countryside that Linda advocates for reaching the quasi-transcendent state in which she often feels inspired!
Finally, Professor Paul Matthews (Head of the Division of Brain Sciences in the Department of Medicine of Imperial College and Fellow by Special Election at St Edmund Hall) responded to both of the preceding talks. He discussed the combination of hard work and preparation that he believes is also fundamental in order for those rarer moments of inspiration to strike. The talks were followed by questions and further discussion with the audience, and then drinks.
The Centre for the Creative Brain holds termly events at St Edmund Hall, that are free and open to the public and aimed at a general audience. Find out more here.
Related News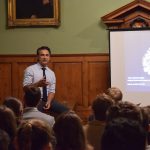 Insights from brain surgery on the conscious patient at Centre for the Creative Brain
18 Oct 2021