Voltaire's birthday fundraiser in New York
21 Nov 2017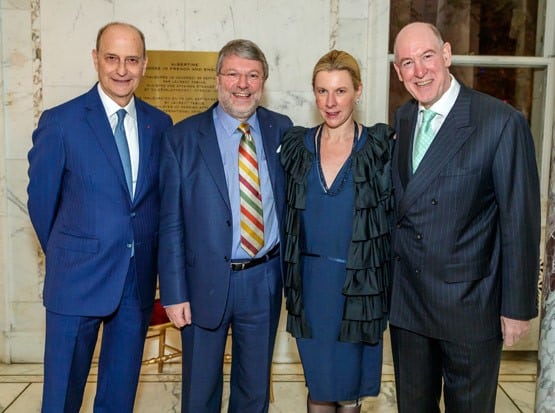 Professor Nicholas Cronk was in New York last week, to celebrate the (probable) birthday of the eighteenth-century philosopher Voltaire, on 21 November, and seek support for an ongoing project to publish a full critical edition of his complete writings. Nicholas is the Director of Oxford University's Voltaire Foundation and General Editor of the Complete Works of Voltaire, as well as a Fellow of St Edmund Hall.
The core mission of the Voltaire Foundation is to research and publish the definitive edition in French of the Complete Works of Voltaire (Œuvres complètes de Voltaire). This is the most ambitious project in French literature currently being undertaken outside France and when the paper edition is complete – a digital edition will follow – it will number around 220 volumes. For the first time ever, scholars are bringing together the entirety of Voltaire's writings: not just his poems, novels, plays and philosophy, but also all of his letters, even the marginalia in the books in his library, now conserved in St Petersburg.
Writers, historians and other researchers need to be able to read Voltaire in a definitive version which, astonishingly, has never been produced; completion of the new Oxford edition will transform the study of Voltaire and our understanding of the Enlightenment more generally. By arranging and analysing Voltaire's writings chronologically, the editors are untangling the evolution of his thought, radically changing our image of Voltaire. And new works are still being discovered!
The recent fundraiser took place at the Cultural Services division of the French Embassy, on Fifth Avenue, and was generously hosted by Miles Young, Warden of New College. In order to meet the ambitious target of completing the edition in 2019 – which they are currently well on course to do – the Foundation needs to publish six volumes per year in each of the three years from 2017 to 2019, and they are now seeking sponsors for the last volumes, in order to complete the edition. The project won a prize from the Académie française in 2010 and has already attracted funding from many prestigious sponsors, including LVMH, the Andrew W. Mellon Foundation and the British Academy.
At the reception, Nicholas spoke about why Voltaire was so prolific, calling him "the first-ever European celebrity". He also suggested that Voltaire may have deliberately misled people about such details as his date of birth and even his parentage, in order to generate intrigue and confusion that would entertain his public – a kind of "eighteenth-century fake news".
Read more about the event in this article in the New York Times. It was also even mentioned in the New York Social Diary!