What's changed for Syrian refugees in Turkish garment supply chains?
6 Nov 2017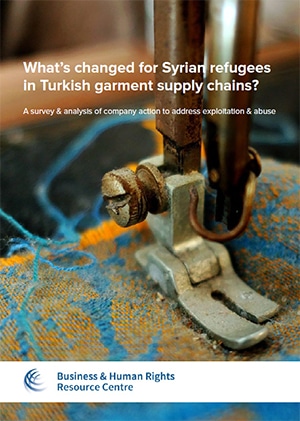 Dr Emre Eren Korkmaz, Newton International Fellow and St Edmund Hall Junior Research Fellow, is the co-author of a new Business & Human Rights Resource Centre (BHRRC) report which looks at the policies of multinational corporations towards the employment of Syrian refugees in Turkey.
The BHRRC have tracked the situation in Turkey since late 2015, regularly asking big apparel brands what they are doing to curb possible exploitation in their supply chain. This new report builds on analysis from February 2016 and October 2016.
They approached 37 brands with a set of questions on their actions to protect Syrian refugees in their supply chains, and in July and August 2017 visited Turkey to assess recent developments and speak to people on the ground.
The report found that more leading fashion brands are making efforts to prevent exploitation of Syrian refugees in their Turkish supply chains than last year, but the industry as a whole still needs to go further.
New Look, Next, ASOS, Inditex (Zara), Otto Group (German fashion brand) and SuperGroup (SuperDry) are the top ranking brands in this year's survey. In 2016, only New Look and Next were judged to be taking sufficient action against exploitation.
At the other end of the scale, Aldi, Arcadia Group (Topshop, Dorothy Perkins), Asda and LC Waikiki (Turkish brand) only provided minimal information with little evidence of action to stop exploitation of refugees. KiK (German retailer), Mexx, New Yorker, River Island, s. Oliver (German fashion brand) and VF Corp (The North Face, Timberland) failed to respond to the survey altogether.
Around 650,000 refugees are thought to be working in Turkey, and the garment industry is a key source of this employment. But most refugees do not have work permits, leading them to engage in informal work, which brings a greater risk of exploitation. Investigations have repeatedly revealed poor wages – with women being paid half the minimum wage, and consistently less than men, and child labour used by subcontractors of European fashion brands.
The companies at the top of the BHRRC ranking are better at identifying risks of abuse in their long and complex supply chains. They have targeted plans to protect refugee workers, and mechanisms to deal with grievances and complaints, and they talk to workers' and refugee organisations.
The survey revealed some notable advances. For example, 15 brands now have a specific policy prohibiting discrimination and exploitation of Syrian refugees – up from 9 in 2016. Brands have also strengthened and increased their audits of suppliers in Turkey: 9 brands reported using majority unannounced audits, up from 1 last year. Brands are also getting better at actually identifying the Syrian workers in their supply chains – a crucial first step to ending abuse.
However, over half the companies assessed need to improve in at least one of five areas. Many brands are failing to look in detail at systemic issues which drive exploitation, like the prices they are paying for products, the demands they put on suppliers, and the risk of undeclared subcontracting, which sees manufacturing outsource to smaller, riskier factories without the buyer's knowledge.
Phil Bloomer, Executive Director, BHRRC said: "The best practice highlighted in this report needs to become the minimum standard across Europe. If they could work on decent terms in the garment industry, refugees in Turkey and beyond would have a chance at a better life. We welcome the advances by leading companies, but Europe's fashion brands need to ensure the price paid for the clothes on the high street ensures a living wage for vulnerable refugees and their fellow Turkish workers."
The report recommends that garment brands sourcing from Turkey should: better identify and assess worker abuse; implement refugee protection strategies (paying attention to the unique risks faced by women refugees); support Turkish suppliers to formally employ Syrian refugees; change purchasing policies to ensure they are not exacerbating exploitation in Turkey; and support civil society, trade unions and workers. Companies across the industry could also increase their collective impact if they collaborated to influence both suppliers and governments to better support Syrian refugees.