Dr Alex Lloyd
Fellow by Special Election
Alex teaches German language and literature from the mid-eighteenth to the twenty-first century, in particular post-1945 literature and film.
Alex teaches German language and literature from the mid-eighteenth to the twenty-first century, in particular post-1945 literature and film. Modern prescribed authors offered include Thomas Mann, Günter Grass, Christa Wolf, and W.G. Sebald. Recent undergraduate lectures include series on post-Wende literature and film, women's writing, cultural memory, and Günter Grass. She is currently the course tutor for Advanced German Translation.
Alex is also part of the team which runs the Oxford German Network, an initiative of the German department of the Faculty of Medieval and Modern Languages dedicated to cross-cultural cooperation between schools, cultural organisations, businesses, and policy-makers.
Interested in applying to study German at Oxford? You can find useful links and information here.
Alex Lloyd's main research interests are in twentieth-century literature and film, particularly memories of childhood, war, and dictatorship. Her AHRC-funded doctoral thesis (Wadham College, 2012) examined post-1989 representations of childhood and youth under Nazism. She is currently working on a project which examines depictions of war children in contemporary German culture.
Thanks to a generous award from Magdalen College in 2015, she attended a course at the MET Film School and has recently been using filmmaking as part of research, teaching, and impact. Her film 'Leaping from the Edge of the World: Ulrike Draesner in Oxford' offers a unique perspective on the multi-award-winning German writer Ulrike Draesner.
As both a singer and a linguist, Alex is also interested in the relationship between language, translation, and music. During the current academic year she ​is the co-convener of a research network exploring the interaction of music and words in the nineteenth- and twentieth-century European song tradition, sponsored by The Oxford Research Centre in the Humanities. She has devised translation workshops with undergraduates, exploring theories of vocal translation and the practical aspects of adapting texts for performance. In 2014 she worked with students on translations of German songs from World War I as part of a college commemoration event, and she is currently part of the Knowledge Exchange Project Music in Monasteries – Recording the German Reformation with Prof. Henrike Lähnemann and the Oxford Bach Soloists, of which she is a member. A short film about the choir's recent tour to Northern Germany, Singing the Reformation, explores why the ensemble chose to take Bach back to the Germans.
Her mini-lecture ('Teddy Talk') on 'how to spot a liar in literature' is available as a University of Oxford podcast. The talk was delivered at the St Edmund Hall Research Expo 2015.
In this entertaining talk, Alex provides an introduction to the theory of unreliable narration and outlines two critical approaches: the cognitivist and the rhetorical. Using examples from Günter Grass's 1959 novel The Tin Drum, she demonstrates how we can tell when a narrator is telling tall tales and how that changes the way we read. This was one of a series of short 'Teddy Talks' given at the St Edmund Hall Research Expo in 2015.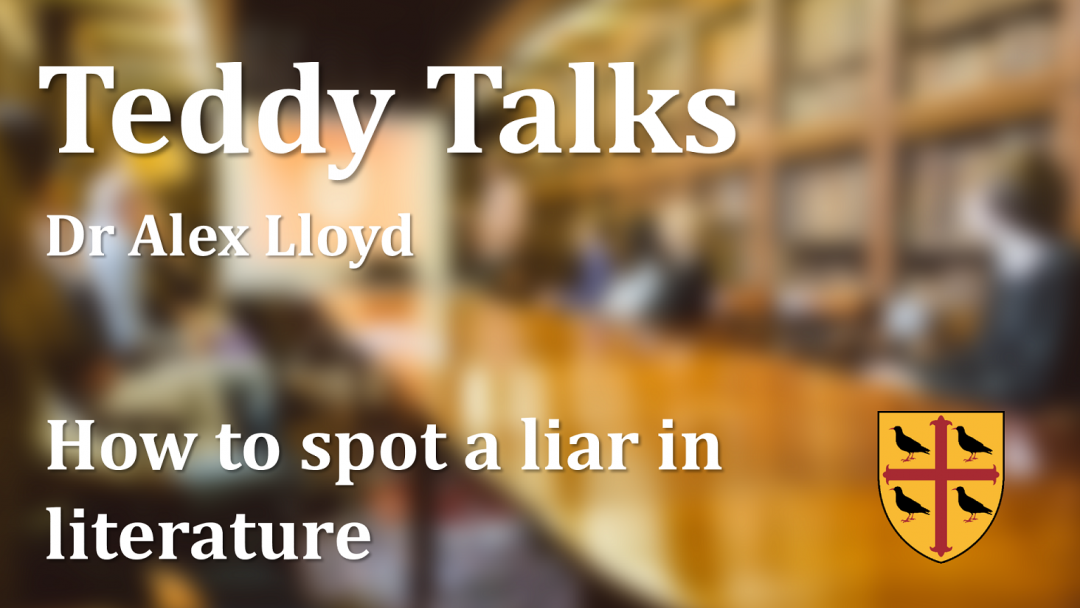 How do people remember the past? Alex looks at essays written by children in Germany after the Second World War – examining the words and tone; the political framing; and the challenges for translating them. The accounts are far from straight-forward, but offer an invaluable insight into the experiences of the children. This is one in a series of short 'Teddy Talks' presented at St Edmund Hall's Research Expo in 2017.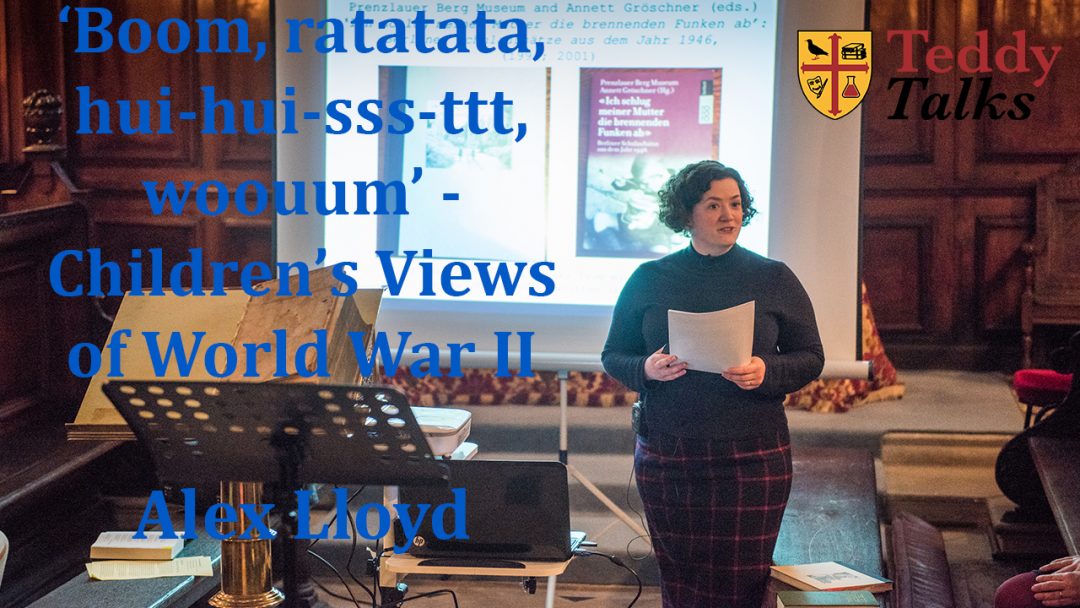 Listen to more from Alex:
Articles and Book Chapters
'Wir wollten doch wissen, wie groß die Gefahr war: The German War Child as Icon and Agent in Berlin School Essays, 1946', The War Child in the Occupation Period (1945-9), ed. by Beate Müller, Debbie Pinfold, Ute Wölfel, special issue of German Life and Letters, 69 (2016), 437-52
'Songs of Innocence and Experience:' Michael Haneke's Cinematic Visions of Childhood', Modern Language Review, 111 (2016), 183-207
Childhood in German Film after 1989, ed. by Alexandra Lloyd and Ute Wölfel, special issue of Oxford German Studies, 44 (2015)
'Rescreening Erich Kästner after the Wall: Adaptations in the Berlin Republic', Childhood in German Film after 1989, ed. by Alexandra Lloyd and Ute Wölfel, special issue of Oxford German Studies, 44 (2015), 289-310
'Dolls and Play: Material Culture and Memories of Girlhood in Germany, 1933-1945', in Dolls Studies: The Many Meanings of Girls' Toys and Play, ed. by Miriam Forman-Brunell and Jennifer Whitney (New York: Peter Lang, 2015), pp. 37-63
'"Institutionalized Stories": Childhood and National Socialism in Contemporary German Museum Displays', Post-War Literature and Institutions, ed. by Seán M. Williams and W. Daniel Wilson, special issue of Oxford German Studies, 43 (2014), 89-105
'Writing Childhood in Ruth Klüger's weiter leben: Eine Jugend', Forum for Modern Language Studies, 49 (2013), 175-83
Book Reviews
Born under Auschwitz: Melancholy Traditions in Postwar German Literature, Mary Cosgrove (Camden House, 2014), Modern Language Review, 110 (2015), 605-67
Childness and the Writing of the German Past: Tropes of Childhood in Contemporary German Literature, Nora Maguire (Peter Lang, 2014), Germanistik in Ireland, 9 (2014), 160-62
Aging and Old-Age Style in Günter Grass, Ruth Klüger, Christa Wolf, and Martin Walser, Stuart Taberner (Camden House, 2013), Modern Language Review, 109 (2014), 1147-49
Far-Flung Families in Film: The Diasporic Family in Contemporary European Cinema, Daniela Berghahn (2013), Journal of Contemporary European Studies, 22 (2014), 207-08
The GDR Remembered. Representations of the East German State Since 1989, ed. by Nick Hodgin and Caroline Pearce (2011), Journal of Contemporary European Studies, 20 (2012), 395-96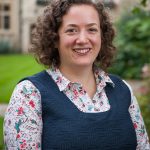 Dr Alex Lloyd
BA PGCE MSt DPhil FHEA Oxf
Fellow by Special Election
College Lecturer in German
Related Links