Alexandra Zelman-Doring (Visiting Student, 2006) is a poet, playwright, actress, and a co-founder of Throes Theatre. She studied at Brown University (with a year abroad at Oxford) and went on to do her Masters at Wadham College. While studying at the Hall she regularly attended the Creative Writing Workshops, and was runner-up in the Graham Midgley prize for poetry in 2007.
After returning to the States to complete her degree, she was awarded the highly prestigious Glascock prize, which has been won by many distinguished poets in the past, including Sylvia Plath and James Merrill. She holds a MFA from Columbia University's Program in Poetry.
Alexandra's recent poems have appeared in The Oxford Magazine, LIT Magazine, The Indy, The Brown Literary Review, the St Edmund Hall Magazine, The Strip, Potsherd, The Saint Ann's Review, Porchlight, The Round, and La Prensa. Some of her poetry has been translated into Georgian, Turkish, and Spanish; and set to music by composers such as Andile Khumalo.
Her essay 'A Community of Mortals' was runner up of the 2013 Bodley Head and Financial Times Essay Prize.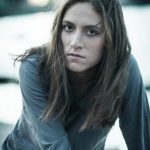 Alexandra Zelman-Doring