Ben Burton (2000, BA and DPhil English) has held lectureships at SEH and at St Catherine's College, Oxford.
As an undergraduate he attended Creative Writing Workshops at the Hall, contributing poems to the publications Synergies and Chatter of Choughs. After graduating with a First, he studied for his MA at the University of Nottingham and returned to the Hall to undertake a DPhil.
He is working on a major digital humanities project, FORM Forms Online: Renaissance to Modern, with Elizabeth Scott-Baumann. The project is a database of early modern poetry searchable by rhyme scheme, metre, genre and other formal characteristics. Ben also co-organised a British Academy funded conference in 2012 entitled Renaissance Poetic Form: New Directions.
Ben has recently left Oxford to take up a teaching post in a secondary school in Nottingham. His research in seventeenth century literature continues; and he takes an active interest in promoting creative writing in education.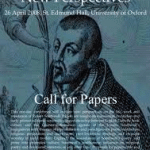 Ben Burton